بسم الله الرحمن الرحيم
Sayyid Abul Ala Maududi - Tafhim al-Qur'an - The Meaning of the Qur'an
---
18. Surah Al Kahf (The Cave)
Name
This Surah takes its name from v. 9 in which the word (al-kahf) occurs.
Period of Revelation
This is the first of those Surahs which were sent down in the third stage of Prophethood at Makkah. We have already divided the life of the Holy Prophet at Makkah into four stages in the Introduction to Chapter VI. According to that division the third stage lasted from the fifth to the tenth year of Prophethood. What distinguishes this stage from the second and the fourth stages is this. During the second stage the Quraish mainly resorted to ridiculing, scoffing, threatening, tempting, raising objections and making false propaganda against the Holy Prophet and his followers in order to suppress the Islamic Movement. But during the third stage they employed the weapons of persecution, man handling and economic pressure for the same purpose. So much so that a large number of the Muslims had to emigrate from Arabia to Habash, and those who remained behind were besieged in Shi'ib Abi Talib along with the Holy Prophet and his family. To add to their misery, a complete social and economic boycott was applied against them. The only redeeming feature was that there were two personalities, Abu Talib and Hadrat Khadijah, whose personal influence had been conducive to the support of two great families of the Quraish. However, when in the tenth year of Prophethood these two persons died, the fourth stage began with such revere persecutions as forced the Holy Prophet and all his Companions to emigrate from Makkah.
It appears from the theme of the Surah that it was revealed at the beginning of the third stage when in spite of persecutions and opposition, migration to Habash had not yet taken place. That is why the story of "Ashab-i-Kahf" (the Sleepers of the Cave) has been related to comfort and encourage the persecuted Muslims and to show them how the righteous people have been saving their Faith in the past.
Subject and Topics
This Surah was sent down in answer to the three questions which the mushriks of Makkah, in consultation with the people of the Book, had put to the Holy Prophet in order to test him. These were: (1) Who were "the Sleepers of' the Cave"? (2) What is the real story of Khidr? and (3) What do you know about Zul-Qarnain? As these three questions and the stories involved concerned the history of the Christians and the Jews, and were unknown in Hijaz, a choice of these was made to test whether the Holy Prophet possessed any source of the knowledge of the hidden and unseen things. Allah, however, not only gave a complete answer to their questions but also employed the three stories to the disadvantage of the opponents of Islam in the conflict that was going on at that time at Makkah between Islam and un-belief:
The questioners were told that "the Sleepers of the Cave" believed in the same doctrine of Tauhid which was being put forward in the Quran and that their condition was similar to the condition of the persecuted Muslims of Makkah. On the other hand, the persecutors of the Sleepers of the Cave had behaved in the same way towards them as the disbelievers of the Quraish were behaving towards the Muslims. Besides this, the Muslims have been taught that even if a Believer is persecuted by a cruel society, he should not bow down before falsehood but emigrate from the place all alone, if need be, with trust in God. Incidentally the disbelievers of Makkah were told that the story of the Sleepers of the Cave was a clear proof of the creed of the Hereafter, for this showed that Allah has the power to resurrect anyone He wills even after a long sleep of death as He did in case of the Sleepers of the Cave.

The story of the Sleepers of the Cave has also been used to warn the chiefs of Makkah who were persecuting the small newly formed Muslim Community. At the same time, the Holy Prophet has been instructed that he should in no case make a compromise with their persecutors nor should he consider them to be more important than his poor followers. On the other hand, those chiefs have been admonished that they should not be puffed up with the transitory life of pleasure they were then enjoying but should seek after those excellences which are permanent and eternal.

The story of Khidr and Moses has been related in such a way as to supply the answer to the question of the disbelievers and to give comfort to the Believers as well. The lesson contained in this story is this "You should have full faith in the wisdom of what is happening in the Divine Factory in accordance with the will of Allah. As the reality is hidden from you, you are at a loss to understand the wisdom of what is happening, and sometimes if it appears that things are going against you, you cry out, 'How and why has this happened'. The fact is that if the curtain be removed from the "unseen", you would yourselves come to know that what is happening here is for the best. Even if some times it appears that something is going against you, you will see that in the end it also produces some good results for you.

The same is true of the story of Zul-Qarnain for it also admonishes the questioners, as if to say, "0 you vain chiefs of Makkah you should learn a lesson from Zul-Qarnain. Though he was a great ruler, a great conqueror and the owner of great resources, yet he always surrendered to his Creator, whereas you are rebelling against Him even though you are insignificant chieftains in comparison with him. Besides this, though Zul-Qarnain built one of the strongest walls for protection, yet his real trust was in Allah and not in the "wall". He believed that the wall could protect him against his enemies as long as it was the will of Allah and that there would be crack and holes in it, when it would be His will : whereas you who possess only insignificant fortified abodes and dwellings in comparison with him, consider yourselves to be permanently safe and secure against all sorts of calamities."
While the Quran turned the tables on the questioners who had tried to "expose" the Holy Prophet, in the end of the Surah the same things have been reiterated that were stated at its beginning: "Tauhid and the Hereafter are absolutely true and real and for your own good you should accept these doctrines, mend your ways in accordance with them and live in this world with this conviction that you are accountable to Allah: otherwise you shall ruin your life and all your doings shall be set at naught."

In the name of Allah, the Compassionate, the Merciful.




[1-4] All praise is for Allah, Who has sent down this Book to His Servant, and assigned nothing crooked to it. This Book says everything directly so that he may warn the people of the severe chastisement of Allah and give good news to the Believers, who do righteous deeds, that they will have an excellent recompense, which they will always enjoy and that he should warn those people who say, "Allah has begotten a son."

[5] Neither had they any knowledge of this nor their forefathers; it is a monstrous word that comes out of their mouths: they utter a sheer lie.



[6-8] Well, O Muhammad, it may be that you will consume your life for their sake out of sorrow, if they do not believe in this message. The fact is that whatsoever is on the earth, We have made it as its adornment so that we may test the people as to which of them does best deeds. In the end, We will turn all that is in it into a bare plain.




[9-12] Do you consider "the Sleepers of the Cave," and the bearers of the "Inscription" to be among Our strange Signs? When those few young men took refuge in the Cave, they said, "Our Lord! have a special mercy on us from Thyself and guide us out of our ordeal aright." Accordingly We lulled them to a deep sleep in the Cave for a number of years. Then We raised them up in order to test which of them were able to calculate correctly the period of their stay there.




[13-16] Now We tell you their real story. They were a few young men who believed in their Lords, and We increased them in their guidance. We strengthened their hearts, when they rose up, and they declared, "Our Lord is the One Who is the Lord of the heavens and the earth. We will not invoke any other deity than Him. It will be the most improper thing if we do so." (Then they held mutual consultations, saying,) "These people of ours have given up the Lord of the universe and adopted other deities. Why do they not bring forward any clear argument in support of their creed? Well, who can be more wicked than the one who forges a lie against Allah? Now that you have forsaken them and discarded the deities they worship besides Allah, let us go to such and such a cave for refuge. Your Lord will extend to you His mercy, and order your affairs for you for the best."


[17-18] If you had looked at them in the Cave, it would have appeared to you that when the sun rose, it left the Cave to one side and inclined towards the right, and when it set, it turned away from them and went to the left while they lay in the spacious place inside the Cave. This was one of the Signs of Allah. Whomsoever Allah guides aright, he is guided aright, and whomsoever Allah lets go astray, you will find no guardian to direct him. If you had seen them, it would have appeared to you as if they were awake, whereas in fact they were asleep. We turned them about to the right and the left sides. And their dog was sitting at the entrance of the Cave with outstretched forelegs. If you had looked at them, you would have turned on your heels and their sight would have struck you with terror.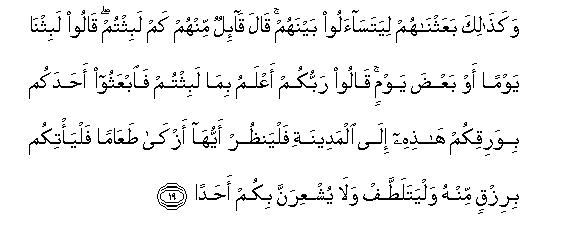 [19-21] And in the same miraculous way We raised them up again so that they may ask one another (about their wonderful experience). One of them asked, "Well, how long have you remained in this condition?" The others answered, "May-be, we have remained so for a day or a part of a day." Then they declared, "Your Lord knows best how long we have remained in this condition. So let us send one of us with this silver coin to the city, and he should look for a place wherein he can get the best food so that he may bring something to eat. He should, however, conduct himself with caution lest anyone should discover our whereabouts; for if they succeed in over-powering us, they will surely stone us to death or force us back into their Faith, and in that case we will never be able to obtain true success." In this way We revealed their secret to the people of the city so that they should know that Allah's promise is true and that there is no doubt about (the coming of) the Hour of Resurrection. (But it is a pity that instead of considering this aspect of the matter) they were at that time disputing among themselves with regard to them (the Sleepers of the Cave). Some of them said, "Let us build a wall against them, for then Lord alone knows best about them" But those people who prevailed in their matter, said, "We will build a place of worship as a memorial for them"




[22-26] Some people will say, "They were three and the fourth was their dog," and some others will say, "They were five and the sixth was their dog." These are mere irrelevant guesses. There are still others who say, "They were seven and the eighth was their dog." Say, "My Lord alone knows best how many they were." "There are a few people only who know their correct number: so you should not enter into discussions with them about their number except in a cursory way: nor ask anyone about them and never say about any matter, "I will do this tomorrow (for you cannot do anything) except that Allah wills it." If ever you inadvertently utter anything like this, you should at once remember your Lord and say, "I hope that my Lord will guide me in this matter with that thing which is nearest to the right way for me"and some people say that they remained in their Cave for three hundred years and some others add nine more years (to the reckoning of the period). O Prophet, say, "Allah knows best about the period of their stay there, for He is fully aware of all that is hidden in the heavens and the earth." What an excellent Seer and Hearer He is! There is no other guardian of the creation in the heavens and the earth, and He does not associate anyone with Himself in His authority.


[27-28] O Prophet, recite (the very same) that has been revealed to you in the Book of your Lord, for no one is authorized to make any change whatsoever in the Word of your Lord and (if you will make any change to please any one) you will find no place of refuge to protect you from Him. And keep yourself whole-heartedly content with those who pray to their Lord morning and evening in order to win His approval, and do not turn your attention away from them. Do you desire the allurements of the world? Do not follow the one" whose heart We have made neglectful of Our remembrance and who follows his own lust and goes to extremes in the conduct of his affairs.



[29-31] Proclaim, "This is the Truth from your Lord: now whosoever will, he may accept it and whosoever will, he may reject it." (As for those who reject this,) We have prepared for such workers of iniquity a fire whose flames have encircled them. If they will ask for water there, they will be treated with such a drink as will have its residue like that of oil and burn their lips: what an evil drink and what an evil abode! As regards those, who accept it and do righteous deeds, they should rest assured that We do not let go waste the reward of such people: they will have evergreen gardens with canals flowing beneath them: they will be adorned with bracelets of gold and will wear green colored robes of silk and rich brocade and will be reclining upon raised thrones. What an excellent reward and what an excellent abode!





[32-36] O Muhammad, present a parable before them. There were two persons; to one of those We gave two gardens of vine and surrounded them with a fence of date-palm trees and We kept a piece of land between them for cultivation. Both of the vine-yards yielded abundant fruit and did not fail anywise in bringing forth their produce, and We caused a canal to flow in their midst. And the owner of the gardens got much benefit. In spite of all this, while conversing with his neighbor, he said, "I have more of wealth than you and have mightier men at my service." Then he entered his "Paradise," while he was unjust to himself, and said, "I don't think that this wealth of mine will ever perish, and I do not believe that the Hour of Resurrection will ever come. Anyhow if ever I am returned to my Lord, I will get even a grander place than this."








[37-44] His neighbor rebuked him during the conversation, saying, "What! Do you disbelieve in the Being Who has created you from clay, then from sperm drop and shaped you as a perfect man? As for myself; Allah alone is my Lord and I set up no partners with Him. And when you were entering your garden, why didn't you say, `Only that shall happen what He will: neither I nor any one else has any power. If you find me now less in wealth and offspring than you, my Lord may bestow on me a better garden than yours and send from heaven on your garden a catastrophe that might turn it into a barren plain, or its water might sink into the earth and you may not be able to bring it out in any way." At last (it so happened that) all his fruit produce was destroyed and, seeing his vines overturned on the trellises, he began to wring his hands at the loss of what he had spent on it, saying, "I wish I had not associated a partner with my Lord! "He was so helpless that neither could he find any host to help him against Allah, nor was himself able to avert that catastrophe-It was then that he realized that all the power of helping rests with Allah, the True One. That reward is the best Which He bestows and that end is the-best to which He leads.




[45-49] And O Prophet, bring home to them the reality of this worldly life by a parable. It is like the vegetation of the earth that flourished luxuriantly when We sent down rain water from the sky, but afterwards the same vegetation was turned into chaff, which is blown away by the wind: Allah has power over everything. Likewise this wealth and the offspring are mere transitory adornment of worldly life: in fact the abiding good deeds are best in the sight of your Lord in regard to their end, and hold out for you greater hopes. The only thing, for which you should prepare, is the Day when We will set the mountains in motion, and when you will find the Earth quite naked, and We will muster together all human beings in a way as to leave none at all behind, and all shall be presented before your Lord in rows-Well! you may see that you have come before Us in the same condition in which We created you at first: You were under the delusion that We had not fixed any time of appointment with you-Then the record of deeds shall be set before them. At that time you will see that the criminals will be afraid of the record of their book of life and will say, "Woe to us! What sort of a book this is! It has left nothing unrecorded of our doings, small or great." They will see before them everything, whatsoever they had done, and your Lord will not be unjust to anyone in the least.

[50] Remember! When We said to the angels, "Bow down before Adam". They bowed down but Iblis did not. He was one of the jinns, so he chose the way of disobedience to his Lord's Command. What, would you then discard Me and make him and his offspring your patrons, though they are your enemies? What a bad substitute it is that these workers of iniquity are taking!

[51] I did not call them to witness the creation of the heavens and the earth nor did I associate them in their own creation. It is not for Me to make My supporters those who lead others astray.


[52-53] What they will do on the Day when their Lord will say to them: "Now call all those whom you considered to be My partners." They will call them but they will not respond and come to their help, and We will set a gulf of perdition common between them. All the criminals will see the Fire on that Day and will have a foreboding that they are going to fall into it, but will not find any place of escape.


[54-55] We have devised different ways in the Qur'an to make the people understand its Message, but man is by nature very contentious. (The question is) what kept them back from accepting guidance when it came before them and from asking the forgiveness of their Lord? It is nothing more than this that they are waiting for the same thing to happen to them that visited the former communities; or that they should see the scourge of Allah coming before them!

[56] The only mission for which We send the Messengers is to convey good news and stern warning, but the disbelievers employ weapons of falsehood to defeat the Truth, and they hold up to ridicule My servants and the warnings that have been sent to them.

[57] Now, who can be more unjust than the person before whom his Lord's Revelations are recited to admonish him, and he turns away from them and forgets the evil end to which he has paved the way with his own hands? As regards those people, who have adopted such an attitude, We have put coverings over their hearts which do not let them listen to the Qur'an, and We have produced heaviness in their ears. While in this state, they will never be guided aright howsoever you may invite them to the Guidance.

[58] Your Lord is very Forgiving and very Merciful: Had He willed to seize them for their evil deeds, He would have sent immediately a scourge on them but He has appointed a time for its fulfillment, and they will find no way out to escape from it.

[59] These habitations which were stricken with the scourge are before you: when they committed iniquity We annihilated them, and We had appointed a term for their annihilation.






[60-65] (Now relate to them the event regarding Moses,) when Moses said to his attendant, "I will not bring my journey to an end until I reach the confluence of the two rivers: otherwise I will continue my journey for years." And it so happened that when they reached the confluence, they became neglectful of their fish and it burrowed its way to the river as through a tunnel. When they had passed on further, Moses said to his attendant, "Let us have our breakfast, for we are dead tired because of to-day's journey." The attendant said, "Did you not notice what a strange thing happened when we were taking rest by the side of that rock? I totally forgot about the fish and satan made me so neglectful of it that I could not mention it to you: the fish slipped into the river in a marvelous manner." Moses replied, "That is exactly what we were seeking." Accordingly, they both went back, retracing their footsteps, and there they found one of our servants whom We had blessed with special favor and had given him a special knowledge from Ourselves.





[66-70] Moses said to him, "May I accompany you, so that you may teach me also that Wisdom, which has been taught to you?" He answered, "You cannot bear with me, and you cannot have the patience with regard to that matter of which you have no knowledge." Moses said, "If Allah wills, you will find me patient and I will not disobey you in any matter." He said, "Well, if you want to accompany me, you should ask me no questions about anything until I myself mention it to you."



[71-73] So they proceeded on until they boarded a boat, and that person bored a hole in the boat. Moses cried out, "What! have you bored a hole in it so that all the passengers may be drowned? This is a grievous thing that you have done." He answered, "Didn't I tell you that you would not be able to bear with me patiently?" Moses replied, "Please do not rebuke me for my forgetfulness, and do not take me to task in regard to my conduct."

[74] Then they journeyed on until they met a boy and that person slew him. Moses cried out, "Have you killed an innocent person, though he had killed nobody? Surely this is a horrible deed that you have committed."


[75-76] He answered, "Didn't I tell you that you would not be able to bear with me patiently?" Moses said, "If after this, I ask anything of you, you may not let me accompany you. Well, now I have afforded you with an excuse from myself."






[77-82] Then they traveled on until they reached a certain habitation and requested its inhabitants to give them some food but they declined to entertain them. There they saw a wall which was about to fall down. That person set it up again. Moses said, "Had you wanted, you could have demanded payment for your labor." The other said, "That will do: we must now part company. Now I explain those things about which you could not keep patience. As regards the boat, it belonged to a few poor persons who toiled on the river. I intended to damage it because further on there was the territory of a king who forcibly seized every boat. As for the boy, his parents were true Believers and we feared lest he should trouble them with his rebellion and unbelief. Therefore we, wished that in his stead their Lord may grant them another child who may be more righteous and filial. As regards the wall, it belonged to two orphan boys, who reside in this city. A treasure for them lies buried under this wall. As their father was a righteous man, your Lord willed that when these children attain their maturity, they should dig out their treasure. All this has been done as a mercy from your Lord: I have not done anything of my own authority. This is the interpretation of those things about which you could not keep patience.

[83] And O Muhammad, they ask you about Zul-Qarnain: tell them, "I am going to recite to you an account of him."





[84-88] We had established his power on the Earth and had provided him with every kind of ways and means. At first, he made preparations for an expedition (to the West and marched on) till he reached the limit where the sun set, and found it setting in black waters, and there he saw a people. We said to him, "O Zul-Qarnain! You have the power to punish them and also the option to treat them generously." He said, "We will punish that one of them who will commit iniquity: then he shall be returned to his Lord and He will inflict on him a grievous torment: And as for the one, who will believe and do righteous deeds, there is a generous recompense and We will prescribe for him easy tasks."



[89-91] Then he made preparations (for another expedition and marched on) till he reached the limit where the sun rose. There he saw the sun rising on a people, whom We had not given any shelter from sun shine. This was their condition and We know well whatever Zul-Qarnain possessed.







[92-98] Then he made preparations (for another expedition and marched on) till he reached between two mountains, where he found a people who could hardly understand any language. They said, "O Zul-Qarnain, Gog and Magog spread chaos in this land; should we then pay a tribute to you so that you may build a bulwark between us and them" He said, "What my Allah has granted me is more than enough. You should help me only with manual labor and I will build a barrier between you and them. Come, bring sheets of iron for me. "When he had filled the space between the two mountains, he said to the people, "Now, ply your bellows." They did so till that (iron-wall) became red-hot and he said, "Now let me pour molten brass upon it." This was such a barrier that Gog and Magog could not scale over it, nor were they able to dig through it. Zul-Qarnain said, "This is a mercy from my Lord; but when the time of my Lord's promise shall come, He will level it to dust and the promise of my Lord is true."



[99-101] And on that Day, We will let loose the people to come close together tumultuously (like the waves of an ocean), and the trumpet shall be blown, and We will gather together all mankind. On that Day Hell shall be brought before the unbelievers who had become blind to My admonition and turned a deaf ear to it.

[102] What, do these people, who have disbelieved, presume that they would make My servants their helpers beside Me? We have prepared Hell for the hospitality of such people.






[103-108] O Muhammad, say to them, "Should We tell you who are the most unsuccessful people and miserable failures in regard to their deeds? They are those, whose endeavors, in the worldly life, had all gone astray from the Right Way but all along they were under the delusion that everything they were doing, was rightly directed: those are the people who rejected the Signs of their Lord and did not believe that they would ever go before Him. Therefore all their deeds were lost, for We will assign no weight to them on the Day of Resurrection. Their recompense is Hell for the disbelief they showed and for the mockery they adopted in regard to My Signs and My Messengers. However, for the hospitality of those people who did righteous deeds, there will be gardens of Paradise wherein they will abide for ever and they will never desire to go anywhere out of them.

[109] O Muhammad, say to them, "If the waters of the ocean were to become ink to write the Words of my Lord, it would exhaust but the Words of my Lord will not exhaust: nay, even if We brought as much ink again, it will not suffice for that."

[110] O Muhammad say to them, "I am a human being like you: it has been revealed to me that your Deity is only One Allah. Therefore the one who expects to meet his Lord, should not associate with Him any other deity in His worship."