بسم الله الرحمن الرحيم
Sayyid Abul Ala Maududi - Tafhim al-Qur'an - The Meaning of the Qur'an
---
10. Surah Yunus (Jonah)
Name
The Surah takes its name from V. 98, in which there is a reference to Prophet Yunus (Jonah). The name, as usual, is symbolical and does not indicate that the Surah deals with the story of Prophet Jonah.
Period of Revelation
We learn from traditions, and this is supported by the contents of the Surah itself, that the whole of this Surah was revealed at Makkah. But there are some people who are of the opinion, that some of its verses were revealed at Al-Madinah. This is, however, a superficial view. The continuity of the theme clearly shows that this does not comprise isolated verses or discourses that were revealed at different times and on different occasions. On the contrary, it is, from the beginning to the end, a closely connected discourse which must have been revealed at one sitting. Besides this, the nature of its theme is itself a clear proof that the Surah belongs to the Makkan period.
Time of Revelation
We have no tradition in regard to the time of it's revelation, but its subject matter gives clear indication that it must have been revealed during the last stage of the Holy Prophet's residence at Makkah. For the mode of the discourse suggests that at the time of its revelation, the antagonism of the opponents of the Message had become so intense that they could not tolerate even the presence of the Holy Prophet and his followers among themselves, and that things had come to such a pass as to leave no hope that they would ever understand and accept the Message of the Prophet. This indicates that the last stage of the Prophet's life among thee people had come, and the final warning like the one in this Surah had to be given. These characteristics of the discourse are clear proof that it was revealed during the last stage of the Movement at Makkah.
Another thing that determines more specifically the order of the Surahs of the last stage at Makkah is the mention (or absence) of some open or covert hint about Hijrat (Emigration) from Makkah. As this Surah does not contain any hint whatsoever about this, it is a proof that it preceded those surahs which contain it.
Now that we have specified the time of its revelation, there is no need of repeating its historical background because that has already been stated in Surahs VI and VII.
Subject
This discourse deals with the invitation to the Message, admonition and warning. In the very introductory verses, the invitation has been extended like this:-
"The people consider it a strange thing that this Message is being conveyed by a human being and charge him with sorcery, whereas there is nothing strange in it nor has it any connection with sorcery or sooth saying. It simply informs you of two realities. First, Allah, Who has created the universe and manages it, is, in fact, your Master and Lord, and He alone is entitled to your worship. The second reality is that after the life in this world, there will be another life in the Next World, where you shall have to render full account of the life of this world and be rewarded or punished according to whether you adopted the righteous attitude as required by Him after acknowledging Him as your Masters or acted against His will. Both of these realities, which the Messenger is presenting before you, are "realities" in themselves whether you acknowledge them as such or not. He is inviting you to accept these and regulate your lives in accordance with them; if you accept these, you will have a very blessed end; otherwise join shall meet with evil consequences."
Topics
After the introduction, the following topics have been dealt with in an appropriate order:-
Proofs of the doctrines of Tauhid, Providence and Life-after-death have been given by such arguments as may satisfy the minds and hearts of those who listen to the Message without prejudice and bigotry with the sole intention of safeguarding themselves against deviation and its evil results and not for the sake of seeking opportunities for useless discussions.

Those misunderstandings which were (and always are) hindering people from accepting the doctrines of Tauhid and the Hereafter, have been removed and they have been warned to guard against those negligences that stand in their way.

Those doubts have been removed and answers to those objections given which were being raised about the Prophethood of Muhammad (Allah's peace be upon him) and the Message brought by him.

Graphic descriptions of the life in the Hereafter have been presented in order to warn the people beforehand so that they should mend their ways here and be not sorry afterwards for their conduct in this world.

They have been admonished and warned that the life in this world is really a test and a trial, and that the time allowed for it is only up to the last moment of the earthly life, and that this is the only opportunity that shall be given to them for accepting the Message and achieving success in the test. Therefore, they should make the best use of the opportunity that has been provided for them by the appointment of Prophet Muhammad (Allah's peace be upon him) for their guidance and obtain the true knowledge of the Reality from the Quran that is being sent down to him. Otherwise, they shall be remorseful for ever and ever.

Their attention has been drawn to some of their acts of manifest ignorance and deviation which were the direct result of discarding Divine Guidance from their lives.

In this connection, the story of Prophet Noah has been related in brief and that of Prophet Moses in detail in order to impress four things on the minds :-

First, "As your behavior towards Prophet Muhammad (Allah's peace be upon him) is like that of the peoples of Prophet Noah and Prophet Moses towards them, you should know it for certain that you also shall meet with the same consequences which they met with." Secondly, "You should not be deluded into believing by the helpless and weak condition of the Prophet and his followers, you are witnessing today, that it will always remain like this. You should know that the same All-Powerful Allah Who supported Prophets Moses and Aaron, is supporting them and that He changes the circumstances in such a sudden and thorough manner that none can foresee it." Thirdly, "If you do not make use of the term that has been granted to you by Allah and mend your ways now, and postpone this to the last moment like followers of th Holy Prophet have been reassured that they should not lose heart because of the severity of the circumstances created by their opponents, especially at the time when they themselves were in an utterly helpless condition. They have also been given instructions as to how they should carry on their Mission under those harsh conditions. Moreover,they have been warned to be on their guard against the kind of behavior which was adopted by the Israelites, when they were rescued by Allah from the tyranny of the People of Pharaoh.

At the end of the Surah, the Holy Prophet has been commanded to make a declaration to this effect: "This is the Creed and this is the rule of conduct that has been prescribed for me by Allah: no change can be made at all in this: whoso will accept this will do so for his own good and whoso will reject this will do so at his own peril."

In the name of Allah, the Compassionate, the Merciful.

[1] Alif Lam Ra. These are the verses of the Book, which is full of wisdom and knowledge.

[2] "Did it seem strange to the people that We should have inspired a man from among themselves to warn the (neglectful) people, and to give the Believers the good news that they will have real honor and success with their Lord? (Is this the thing that) led the unbelievers to say, "This man is a manifest enchanter?"

[3] The fact is that your Lord is the same Allah Who created the heavens and the earth in six days, then sat Himself upon the Throne of His Kingdom, and is directing the affairs of the universe. None can intercede with Him except after His permissions That is Allah, your Lord: so worship Him. Will you not then understand?

[4] To Him you shall all return: this is the true and sure promise of Allah. Indeed He originates creation and He will bring it back to life so that He may recompense with perfect justice those who believed and did righteous deeds. As for those who disbelieved, they shall drink boiling water and undergo a painful chastisement for their rejection of the Truth.


[5-6] It is He Who gave the sun his brightness and the moon her light, and ordained her phases precisely so that you may calculate years and dates from this. Allah has not created all this (for mere fun) but for a serious end. He makes His Signs manifest for those people who possess knowledge. In the alternation of the night and day and in all that Allah has created in the heavens and the earth, surely there are Signs for those who intend avoiding (deviation from the Truth)


[7-8] The fact is that the ultimate abode of those, who expect not to meet Us and are well pleased and satisfied with this worldly life and pay no heed to Our Signs, shall be Hell in consequence of the evils they earned (because of this erroneous creed and wrong conduct.)


[9-10] And it is also a fact that, because of their faith, Allah will guide aright those who believe (sincerely in the Truths that have been presented in this Book) and do righteous deeds; and canals will be flowing underneath there in the Gardens of bliss. Therein their prayers will be. "Glory to Thee, O Lord," and their greeting, "Peace be to you," and the burden of their hymn will be, "Praise is for Allah alone, the Lord of the universe."




[11-14] Had Allah hastened in dealing out evil to people as they hastened in asking good of the world, the term allowed to them for action would have been terminated long before this. (But this is not Our Way:) We let wander in their rebellion those people who do not expect to meet Us. Strange is the behavior of man! When he is in affliction, he calls Us, standing or sitting or lying down, but when We remove his .affliction from him, he behaves as if he had never called Us at the time when affliction came upon him. Thus the evil deeds of such transgressors have been made seeming fair to them. O mankind, We destroyed before you those communities (which were in power in their time,) when they adopted the attitude of transgression, for their Messengers came to them with clear signs but they would not believe in them. This is how We recompense the criminals for their crimes. Now We have appointed you in their place on the earth so that We may test how you conduct yourselves.



[15-17] When Our clear revelations are recited to them, those who do not expect to meet Us say, "Bring another Qur'an in its stead or make some amendment in it." O Muhammad, say to them, "It is not for me to make any alteration in it of my own accord. I follow only what is revealed to me. Indeed, if I disobey my Lord, I fear the chastisement of a dreadful Day." Say also, "Had Allah willed so, I would never have recited this Qur'an to you, nor would I have told you anything (about its existence). I have already lived a lifetime among you before its revelation. Do you not use your common-sense? And Who can be a greater sinner than the one who himself forges a lie and then ascribes it to Allah or falsifies His real Revelations? Indeed, criminals can never attain (true) success."

[18] These people worship besides Allah those which can neither harm nor benefit them, and say, "These are our intercessors with Allah." O Muhammad, say to them, "Do you presume to inform Allah of that thing which He knows not to be either in the heavens or in the earth ?" He is absolutely free from and exalted above what they associate with Him.

[19] In the beginning all the people were one community, but afterwards they invented different creeds and ways. And had not your Lord ordained a decree, that thing in which they differ would have been resolved.

[20] As regards their saying, "Why has not a Sign been sent down to this Prophet from his Lord?" tell them, "The unseen belongs wholly and solely to Allah. Well, wait (for it): I, too shall wait with you."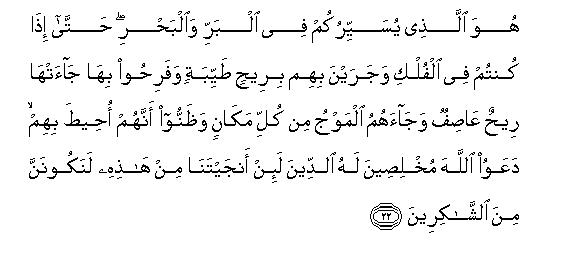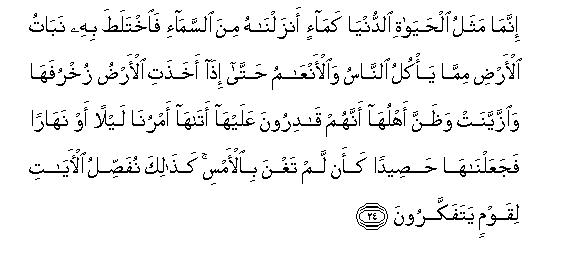 [21-28] This is how people behave: No sooner do We show mercy to them after some calamity had afflicted them than they begin to practice deceptions concerning Our Signs. Say to them, "Allah is more swift in His plans than you: indeed His angels are keeping a full record of your acts of deception. It is Allah Who enables you to travel over land and by sea. So you set sails in ships, rejoicing over a fair breeze. Then all of a sudden a strong wind begins to rage against the passengers and billows begin to surge upon them from every side and they realize that they have been encircled by the tempest. At that time they pray to Allah with sincere faith, saying, "If You deliver us from this peril, we will become Your grateful servants." But when He delivers them, the same people begin to rebel in the land against the Truth. O people, this rebellion of yours is harmful only to yourselves. (You may enjoy) the transitory pleasures of this world, then you have to return to Us: then We will let you know what you have been doing. This worldly life (which has so enamored you that you have become neglectful of Our Signs) may be likened to the produce of the earth: We sent rain-water from the sky, and the crops of which man and animals eat, grew up luxuriantly. Then at that very time, when the land was at its best, and the crops had ripened and decked out and the owners were presuming that they would be able to benefit from them, Our Command came all of a sudden by night or by day, and We destroyed it so thoroughly as though nothing had existed there the previous day. Thus We expound Our Signs in detail for the consideration of those people who are thoughtful. (You are being deluded by this transitory life,) and Allah invites you to the Abode of Peace. (Guidance is in His power,) and He guides to the Right Way whomsoever He pleases. Those who have done excellent works will get excellent rewards, and even more than their merits: neither gloom nor disgrace shall cover their faces. They deserve the Garden, where they will abide for ever. And those who have earned evil deeds shall have their recompense according to the evil they earned: disgrace shall set over them: there shall be none to protect them from Allah: their faces shall be covered with such gloom as if the black veils of the night had fallen over them: they deserve Hell, wherein they shall abide for ever. On the Day We will muster them together (in Our Court,) We will say to those who committed shirk, "Stay where you are, you and those whom you set as partners with Us." Then We will remove the state of strangeness from among them, and the partners they had set up will say, "You did not worship us."





[29-33] "Allah suffices as a witness between you and us and (even if you worshiped us) we were utterly unaware of your worship" At that time everyone will taste of what he ,did. All shall be brought back to Allah, their real Lord, and all the lies they had invented would vanish from them.
Ask them "Who provides for you from the heavens and the earth? Who has power over the faculties of hearing and sight? Who brings forth the living from the dead and the dead from the living? Who directs the system of the universe?" They will surely reply, "Allah". Say "Will you not, then, refrain from (going against the Truth)?" The same Allah is your true Lord: then, what remains there after the Truth except deviation? Well, whither are you being turned away?" O Prophet, behold! thus has the Word of your Lord come true in regard to the evil-doers that they would not believe.

[34] Ask them "Is there any of the partners you have set up with Allah who originates creation and then brings it back again? Say: "It is Allah Who originates creation and brings it back again. How then are you being perverted to the wrong ways of shirk?"

[35] Ask them, "Is there any of the partners you have set up with Allah, who guides to the Truth?" Say: "It is Allah alone Who guides to the Truth." Very well, then tell: "Who is more worthy to be followed: He Who guides to the Truth or the one who cannot guide unless he himself be guided? What has then gone wrong with you that you make perverted judgments?"

[36] The fact is that most of them are following mere conjecture, as whereas conjecture cannot in any way fulfill the requirements of the true knowledge. Allah has full knowledge of what they are doing.

[37] And this Qur'an is not a thing that could be composed without Allah's Revelation: nay, it is the confirmation of what was revealed before it, and full explanation of `the Book'. There is no doubt about this that it is from the Lord of the universe.




[38-41] Do they say that the Prophet has composed it himself? Tell them,. "If what you say be true, then produce one surah like this and you may call to your assistance anyone you can other than Allah." The fact is that they have denied (on mere conjecture) what was not within the reach of their knowledge nor had they, as yet, tasted its consequences. Likewise, the people who went before them declared as false the Revelations, but behold, what was the end of those unjust people! Some of these people will believe in it and others will not, and your Lord knows these mischief-makers very well indeed. If these people declare that you are an impostor say to them "I am responsible for my deeds and you are for yours: you are not accountable for what I do, and I am not for what you do."





[42-46] There are many among them who hear what you say: but will you make the deaf listen to you even though they be incapable of understanding it? Then there are many others among them who see you: but will you show the way to the blind, even though they be bereft of sight? The fact is that Allah does not in any way wrong the people but they wrong themselves. (Today these people are intoxicated with the life of this world but) on the Day when Allah will muster them they will feel as if they had stayed (in this world) for only an hour or so in order to have acquaintance with one another. (At that time they will realize that) they who disbelieved in their meeting with Allah were losers indeed and were not rightly guided. Maybe, We let you witness some of the dire consequences with which We threaten them or raise you to Ourselves before this. Anyway they shall have to return to Us and Allah is a witness to what they are doing.

[47] There is a Messenger for every ummat. then, when its Messenger comes a just judgment is passed on its people and they are not wronged in the least.





[48-52] They ask "When will this threat come to pass ? Tell us if what you say be true. " Say "I have no power to bring benefits or to avert evils from myself: everything depends upon Allah's will. Every ummat has its appointed term: when that term expires it is neither delayed nor advanced for them by a single hour." Ask them "Have you ever considered this? (What can you do to avert it,) if His scourge comes upon you suddenly by night or by day ? Why is it that the criminals are seeking to hasten it?" What! will you believe in it, when it actually overtakes you?-Do you want to escape from it now, when you yourselves were demanding it? Then it will be said to the transgressors, "Now taste the everlasting torment; what other recompense than this do you expect to get for what you have been earning?"




[53-56] Then they ask, "Is what you say really true ?" Tell them, "Yes by my Lord, it is absolutely true, and you have no power to avert it." And every person who has transgressed would gladly give all the wealth of the earth as ransom, if he possessed it, to redeem himself from the torment. When they will see the torment they will be remorseful in their hearts. And the judgment will be passed on them with justice and no wrong will be done to them. Listen! all that is in the heavens and the earth belongs to Allah. Note it well that Allah's word is true, yet most of them know it not. It is He Who ordained life and death, and to Him you shall all return.




[57-60] O mankind, there has come to you the Admonition from your Lord: this is the remedy for the diseases of the heart, and guidance and blessing for those who believe in it. O Prophet, say, "It is the bounty of Allah and His mercy that He has sent this thing: let the people rejoice over it for it is better than what they amass." O Prophet, ask them, "Have you ever considered that you yourselves have made something unlawful and the other lawful out of what Allah has given you?" Then ask them, "Has Allah allowed you this or do you ascribe a false thing to Him?" What treatment do they think Allah will mete out to them who ascribe this false thing to Him on the Day of Resurrection ? Indeed Allah is bountiful to mankind, but most of them are not grateful.





[61-65] O Prophet, We are witnessing whatever work you may be engaged in and whatever portion you may be reciting from the Qur'an; We are also keeping a watch, O people, over whatever you are doing: for there is not an iota of anything, small or big, in the earth and the heavens that is hidden from your Lord, and everything is on record in the clear Register. Listen: those, who are Allah's friends and who believe and fear God, shall have no occasion for fear or sorrow: there is nothing but good news for them in this world and in the Hereafter: Allah's words cannot be changed-this is the greatest success. O Prophet, let not their remarks grieve you, for honor wholly rests with Allah. He is the All-Hearing, the All-Knowing.


[66-67] Note it well that all the dwellers of the heavens and of the earth belong to Allah: and those who invoke, besides Allah, partners (they have set up with Him) follow nothing but surmises and merely indulge in guess-works. It is He Who ordained the night for you to repose in it, and gave to the day its light. Indeed there are Signs in this for those who listen (to the Message).



[68-70] They remarked," Allah has taken a son to Himself. Allah is All-Pure! He is Self-Sufficient: He is the Owner of everything that is in the heavens and the earth. Have you any authority for what you say? What! do you ascribe to Allah that of which you have no knowledge? O Prophet, say to them, "Those, who ascribe false things to Allah, can never prosper." Well, they may enjoy the transitory pleasures of this life, but after this they have to return to Us and then we will make them taste a severe torment because of this blasphemy they are committing.




[71-74] Recite to them Noah's story, when he said to his people; "O my brethren, if it has become intolerable for you that I should dwell in your midst and preach to you the Revelations of Allah, then (note it well that) I have put my trust in Allah. You may muster all the partners you have set up and come to a united decision about me and consider your scheme well so that no aspect of the matter should remain hidden from you. Then bring that into action against me without giving me any respite. If you have turned away from my Message, (I have lost nothing) for I did not demand any reward from you: my reward is with Allah, and I have been commanded to behave like a Muslim, (whether any other does so or not.)" But they disbelieved in him and the result was that We rescued those of them, who were with him in the Ark and made them successors on the earth and drowned those who rejected Our Revelations. So consider the end of those who were warned (but did not believe). After Noah We sent different Messengers to their peoples and they came to them with manifest Signs, but they would not believe in what they had disbelieved before. This is how We set a seal on the hearts of the transgressors.








[75-82] Then after them We sent Moses and Aaron with Our Signs to Pharaoh and his chiefs. But they showed arrogance, for they were criminals. So when the Truth came to them from Us, they said, "This is clear sorcery. Moses replied, "What, do you call the Truth sorcery, when it has come to you? Is this sorcery? The fact is that sorcerers can never attain true success. In reply to this, they said, "Have you come to turn us away from the faith of our forefathers so that you two may dominate over the land?' We are not going to believe in what you say." And Pharaoh said (to his people), "Bring every expert sorcerer to me. "- When the sorcerers came, Moses said to them. "Cast down whatever you have to cast." When they cast down their appliances, Moses said to them, "This is sorcery what you have cast down: Allah will surely render it in vain for He does not let the plans of mischief-makers succeed. And Allah vindicates the Truth by His Commands, though the guilty ones may dislike it."

[83] (Then behold that) none but a few youths from his own people obeyed and followed Moses because of the fear of Pharaoh and their own chiefs; for they apprehended that Pharaoh would afflict them with a torment. And the fact is that Pharaoh was mighty in the land: indeed he was one of those who do not hesitate to transgress any limit.



[84-86] Moses said to his people, "O my people, if you sincerely believe in Allah, put your trust in Him, if you are Muslims. " They answered, "We have put our trust in Allah: `Our Lord, do not make us a cause of trial for the unjust people, and deliver us by Thy mercy from the unbelievers'."

[87] And We inspired Moses and his brother: "Provide some houses for your people in Egypt, and make those houses of yours as qiblah, and establish Salat and fill the Believers with hope and courage."


[88-89] Moses prayed and said, "Our Lord, Thou hast bestowed on Pharaoh and his chiefs splendor and possessions in the worldly life; our Lord, hast Thou done this that they may lead astray the people from Thy Way ? Lord, destroy their wealth and harden their hearts in a manner so that they may not believe till they see the painful torment." Allah replied, "The prayer of you both has been granted; so be steadfast and follow not the way of those who have no knowledge.



[90-92] And We led the children of Israel across the sea. Then Pharaoh and his hosts pursued them with the intention of cruelty and oppression to them until, when he was drowning, he cried, "I have believed that there is no god but the real God in Whom the children of Israel have believed and I am of those who surrender." (In answer it was said : ) "Now you believe! Whereas hitherto you had been rebellious and of the mischief-makers. Now We will preserve your dead body only to be a sign of warning for the succeeding generations, though there are many people who give no heed to Our Signs."

[93] We gave an excellent abode to the children of Israel and provided them with the best things of life. Then they caused not dissensions among themselves until the knowledge had come to them. Surely your Lord will decide between them on the Day of Resurrection concerning that in which they had been differing.


[94-95] If you are in doubt regarding the Guidance We have sent down to you, you may inquire about this from those people who have been reading the Scriptures before you. In fact, it is the very Truth that has come to you from your Lord; so be not of those who doubt and join not those who treat Allah's Revelations as false; otherwise you shall be of the losers.



[96-98] The fact is that whatsoever Signs are shown to those who have fallen under Allah's decree, they will not believe till they see the painful torment. Then, is there any instance of a habitation that, seeing the torment, accepted the faith and that faith profited it? (There is no instance of this) except that of Jonah's people. When they believed, We warded off the torment of ignominy from them in this worldly life and allowed them to make use of the things of life for a while.


[99-100] Had your Lord willed (that all the people of the world should be believers), all the dwellers of the earth would have believed in Him Will you, then, force the people to become believers? No one can believe without Allah's permission, and it is the way of Allah that He throws filth on those who do not use their commonsense.



[101-103] Say to them, "Make a keen observation of all that is in the heavens and the earth." And (the fact is that) the Signs and warnings are of no avail to those who would not believe. Now what do they wait for but the evil days that befell the peoples before them? Say to them, "Well, wait and see, I, too, wait with you." Then, (when such a time comes), We deliver Our Messengers and those who believed in them-This is Our Way: We have laid it on Ourselves to deliver the believers.




[104-107] O Prophet say, O mankind! if you are still in doubt concerning my Faith, know that I do not worship those whom you worship beside Allah, but I worship that Allah alone, Who has the power to cause your death. I have been commanded that I should be of the believers. I have also been bidden: Dedicate yourself sincerely, and exclusively and steadfastly to this Faith and be not at all of those who associate other gods with Allah. And do not invoke beside Allah any being that can neither do you good nor harm: for if you will do so, you shall be one of the workers of iniquity. If Allah afflicts you with a calamity, there is none to remove it but He Himself. Likewise if He wills to bestow a favor on you, there is none to withhold His bounty. He bestows His bounty on anyone of His servants He wills. And He is Forgiving and Merciful."


[108-109] O Muhammad, tell them, "O mankind! the Truth has come to you from your Lord. Now, whosoever follows the Right way, he does so for his own good, and whosoever goes astray, he does so to bring about his own ruin; and I am not a keeper over you. " And, O Prophet, go on following the Guidance that has been revealed to you; persevere steadfastly till Allah passes His judgment, for He is the best of judges.