بسم الله الرحمن الرحيم
Sayyid Abul Ala Maududi - Tafhim al-Qur'an - The Meaning of the Qur'an
---
7. Surah Al Aaraf (The Heights)
Name
This Surah takes its name from vv. 46-47 in which mention of A'araf occurs.
Period of Revelation
A study of its contents clearly shows that the period of its revelation is about the same as that of Al-An'am, i. e., the last year of the Holy Prophet's life at Makkah, but it cannot be asserted with certainty which of these two was sent down earlier. Anyhow the manner of its admonition clearly indicates that it belongs to the same period. As both have the same historical background the reader should keep in view the preface to Al-An'am.
Topics of Discussion
The principal subject of this surah is "invitation to the Divine Message sent down to Muhammad" (Allah's peace be upon him), which is couched in a warning. This is because the Messenger had spent a long time in admonishing the people of Makkah without any tangible effect on them. Nay, they had turned a deaf ear to his message and become so obdurate and antagonistic that, in accordance with the Divine Design, the Messenger was going to be commanded to leave them and turn to other people,. That is why they are being admonished to accept the Message but, at the same time, they are being warned in strong terms of the consequences that followed the wrong attitude of the former people towards their Messengers. (Now that the Holy Prophet was going to" migrate from Makkah the concluding portion of the address has been directed towards the people of the Book with whom he was going to come into contact. This meant that the time of migration was coming near and the "invitation" was going to be extended to mankind in general, and was not to be confined to his own people in particular as before.
During the course of the address to the Jews, the consequences of their hypocritical conduct towards Prophethood have also been pointed out clearly, for they professed to believe in Prophet Moses but in practice opposed his teachings, disobeyed him and worshiped falsehood and consequently were afflicted with ignominy and disgrace.
At the end of the Surah, some instructions have been given to the Holy Prophet and his followers for carrying out the work of the propagation of Islam with wisdom. The most important of these is that they should show patience and exercise restraint in answer to the provocations of their opponents. Above all, they have been advised that under stress of the excitement of feeling, they should not take any wrung step that might harm their cause.
Subject: Invitation to the Divine Message
Topics and their Interconnection
In this passage, the people have been invited to follow the Message sent down to them through Muhammad (Allah's peace be upon him) and warned of the consequences of its rejection. 1 - 10
The story of Adam has been related with a view to warning his descendants against the evil devices of Satan who is ever ready to mislead them as he did in the case of Adam and Eve. 11 - 25
This passage contains some Divine instructions, and contrasts these with Satan's instructions, and depicts a graphic picture of the results and the consequences of the two. 26 - 53
As the Message has been sent down by Allah (Who is the Creator of the heavens and the earth and everything in them), it should be followed, for it is like the rain He sends down to give life to the dead earth. 54 - 58
Events from the lives of some well-known Prophets - Noah, Hud, Salih, Lot, Shu`aib, Moses (Allah's peace be upon them all) -- have been related to show the consequences of the rejection of the Message, and the addressees of Prophet Muhammad (Allah's peace be upon him) have been admonished to accept and follow the Message in order to escape perdition. 59 - 171
As the Covenant with the Israelites was mentioned at the end of the preceding passage, the whole mankind has been reminded very appropriately of the Covenant that was made at the time of the appointment of Adam as the Vicegerent of Allah so that all of his descendants should remember it and accept and follow the Message that was delivered by the Holy Prophet. 172 - 174
The example of the one who had the knowledge of the Message but discarded it, has been cited as a warning to those who were treating the Message as false; they have been exhorted to use their faculties to recognize the Message; otherwise Hell would be there abode. 175 - 179
In this concluding portion of the Surah, some deviations of those who do not use their faculties properly to understand the Message have been dealt with and they have been admonished, reproved and warned of the serious consequences of their antagonistic attitude towards the Message of the Holy Prophet. 180 - 198
In conclusion, instructions have been given to the Holy Prophet, and through him to his followers, about the attitude they should adopt towards those who reject the Message and deviate from it. 199 - 206

In the name of Allah, the Compassionate, the Merciful.


[1-2] Alif. Lam. Mim Sad. This is a book which has been sent down to you: so, O Muhammad let there be no hesitation in your mind about it; this has been sent down that you may thereby warn (the disbelievers) and that it may be an admonition to the Believer.

[3] O people, follow what has been sent down to you from your Lord and do not follow other patrons beside Him. But you seldom take admonition


[4-5] There leave been many habitations which We destroyed. Our scourge came upon them all of a sudden at night or at a time during the day where they were taking rest. When Our scourge overtook them, the only cry they could utter was "Indeed we were transgressors!"




[6-9] Thus (on the day of Judgment) We will most certainly call to account all those to whom We sent Our Messengers, and We will also ask the Messengers (how far they conveyed the Message and how the people responded to it). Then We Ourself will recount to them with Knowledge (all their doings); for We were not absent from them. On dear Day the weight will be identical with the Truth: accordingly those whose scales will be heavy will alone come out successful. And those whose scales will be light will be the ones who will have incurred loss upon themselves because they had been unjust to Our Revelations.

[10] We established you on the earth entrusting you with power and providing you with sustenance, but you are seldom grateful.







[11-17] Indeed We planned your creation, then We shaped you, and there We said to the angels, "Bow yourselves before Adam" Accordingly all bowed save Iblis who did not join those who bowed themselves. Allah said. "What prevented you from bowing down, when I commanded you?"He replied. "I am better than he; Thou created me of fire and created him of clay."
Allah said. "Well, get down from here. You have no right to brag here of your greatness. Get out; indeed you are of those who wish themselves ignominy."
Satan requested, "Give me respite till the Day when they shall all be raised from the dead."
Allah replied, "You are granted respite."
He said, "Well for that Thou hast led me into deviation, now I will also lie in ambush for mankind on Thy Right Way. I will come upon them from all sides-froth the front and from the rear, and from their right and from their left: then Thou wilt not find most of them to be grateful"


[18-19] Allah said, "Get out from here-despised and disowned. Note it well that I will fill the Hell with you and with all those who will follow you. As for you, O Adam, you and your wife should dwell in this Paradise; you may eat of anything from anywhere, but do not even go near this tree or you shall become transgressors."






[20-25] Then Satan tempted them so that he might reveal to them their shameful parts which had been hidden froth each other. He said to them, "Your Lord has forbidden you to go near this tree only lest you should become angels or become immortals." He swore an oath and assured them, "I am your true well-wisher." Thus he beguiled them and gradually molded them to his design. So, when they tasted (the fruit of the tree, their shameful parts became visible to each other and they began to cover themselves with the leaves of the Garden.
Then their Lord called out to them, saying, "Did I not forbid you to go near this tree, and warn you that Satan was your open enemy?"
Both of them at once replied, "O Lord, we have wronged ourselves gravely; if You do not forgive us and have mercy upon us, we shall be totally ruined."
Allah commanded, "Go down; you are enemies to each other: the earth shall be a dwelling place for you for a fixed term and there you will get your livelihood". He added, "There you shall live and there you shall die and from there you shall be brought forth at last."


[26-27] O children of Adam, We have sent down to you clothing in order to cover the shameful parts of your body, and to serve as protection and decoration; and the best garment is the garment of piety. This is one of the signs of Allah; it may be the people learn a lesson from this. O children of Adam, let not Satan seduce you in the same way that he caused your first parents to be driven out of the Garden and stripped them of their garments in order to expose their shameful parts before each other. He and his party see you from where you cannot see them. We have made these satans the guardians of those who do not believe.



[28-30] Whenever these people commit a shameful deed, they say. "We found our forefathers doing this, and Allah Himself has enjoined us to do this." Say to them, "Allah never enjoins a shameful thing. Do you attribute to Allah's name and say things which you know not to be from Him?" O Muhammad, say to them, "My Lord has enjoined justice and righteousness; (He has also enjoined that) you should keep aright your direction during every act of worship and invoke Him alone, dedicating your faith sincerely and exclusively to Him; you shall be created again just as He has created you now. He has shown the Right Way to some but has justly left others to go astray. This is because, instead of Allah, they have made satans their guardians, and yet think that they are on the Right Way."

[31] O children of Adam, dress yourselves fully, properly and decently at the time of every worship; eat and drink, but do not transgress, for Allah does not like the transgressors.

[32] O Muhammad, ask them, "Who has forbidden the decent garments that Allah brought forth for His "servants and (Who has forbidden) the good and pure things of life bestowed by Him?" Say, "All these things are for the Believers in this world but on the Day of Resurrection, these shall be exclusively for them." Thus We make quite plain Our Revelations to those who possess knowledge.

[33] O Muhammad, say to them, "The things which my Lord has forbidden are: shameful deeds whether open or secret, sinful things and transgression against the Truth, He has also forbidden to associate partners with Allah since He has sent down no authority therefor; (He has also forbidden) to attribute to Allah's name the thing which you know not He has said."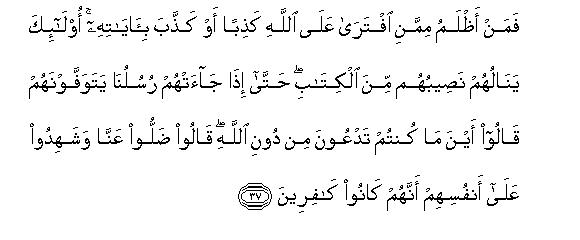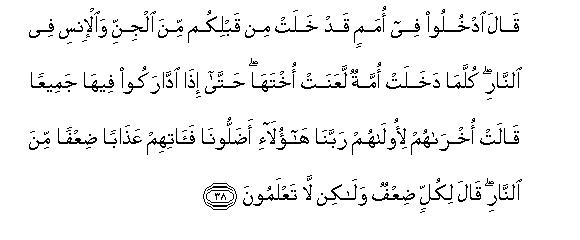 [34-39] Every community has been given a fixed term; when the term expires, it can neither be put back nor put forward by a single hour. (Allah declared it clearly at the very beginning of human life, ) "O children of Adam! If Messengers from among you should come to you and recite to you My Revelations, whoever will refrain from disobedience and mend his ways, will have no cause of fear nor of sorrow; as for those who will treat Our Revelation as false and show pride in regard to them, shall be the dwellers of Hell, wherein they shall remain for ever." Then who can be more wicked than the one who invents falsehoods about Allah and then attributes these to Him or than the one who treats the true Revelations of Allah as false? Such people will go on receiving their destined shares till that hour comes when the angels, appointed by Us, will arrive to capture their souls. Then the angels will ask them, "Where are those now whom you worshiped instead of Allah ?" They will answer "All of them have forsaken us." And they will give evidence against themselves that they had indeed denied the truth. Allah will say, "Go into Hell, where those who went before you from among jinns and men have gone. " As each generation will be entering Hell it will curse its preceding generation till all generations shall be gathered there: then each succeeding generation will say regarding the preceding one, "O Lord, these were the people who led us astray; therefore give them double chastisement of the Fire." Allah will reply, "There is a double chastisement for every one but you know it not." And the preceding generation will say to the succeeding, "(If we were to blame) you, too, were no better than we. Now taste the torture for what you earned."




[40-43] Believe it that the doors of heaven will not be opened for those who have treated Our Revelations as false and have shown pride in regard to them: their admission into Paradise is as impossible as the passing of the camel through the eye of the needle, so do We recompense the guilty ones. Hell shall be their bed and Hell shall be their covering: this is the chastisement We award to the workers of iniquity. But as to those who have believed in Our Revelations and done good deeds,- and in this way We lay not on anyone a burden beyond one's capacity-they are worthy of Paradise, wherein they will abide for ever. And We will remove whatever ill-feeling would have been in their hearts against one another; canals will be flowing underneath theta and they will say, "Praise be to Allah, Who has guided us to this Way: by ourselves we would not have been able to find the Way, if Allah had not guided us. The Messengers sent by our Lord had really come, with the Truth. " At that time a voice will be heard saying, "This is the Paradise, of which you have been made heirs; it has been given to you for the good works you did.


[44-45] Then the inmates of Paradise will call out to the inmates of Hell, "We have found all the promises made to us by our Lord to be true: have you, too, found the promises trade to you by your Lord to be true?" They will say, "Yes". Then a herald in their midst will announce: "The curse of Allah be upon those evil-doers who debarred others from the Way of Allah and sought to make it crooked, and did not believe in the Hereafter."




[46-49] Between these two groups, there shall be a barrier, on `the Heights,' on which will be some other people, who will recognize everyone of them by his countenance. They will call out to the inmates of Paradise, "Peace be upon you! "-They will not have yet entered Paradise, though they will be expecting to do so.-And when their eyes will be turned towards the inmates of Hell, they will say, "O our Lord, do not include us in these wicked people." Then these people on `the Heights' will recognize by their characteristics some `big' personalities from among the inmates of Hell and will call out to them, "You have seen that today neither your followers have availed you anything nor your wealth and property, of which you were very proud. And, are not these inmates of Paradise the same people about whom you swore that Allah would not give them any portion of His blessings? Today the same have been welcome with the words `Go into Paradise where you will have neither fear nor grief'."


[50-51] And the inmates of Hell will cry out to the inmates of Paradise: "Pour upon us a little water or throw down a bit of the provisions Allah has bestowed upon you." They will reply, "Allah has forbidden both the things to the disbelievers, who had made their religion a pastime, sport and enjoyment, and who had been deluded by the worldly life. Allah says. `Today We will forget them just as they forgot the meeting of this Day and rejected Our Revelations'."


[52-53] We have brought to these people a Book which gives details based on knowledge and which is a guidance and blessing for those who believe. Now, are these people waiting for anything other than the consequence (of which they have been) warned in this Book? When the consequence will come before them, those very people who afore time had disregarded it, will say, "Indeed, the Messengers of our Lord had come with the Truth. Shall we have, then, any intercessors who will intercede for us? Or could we be sent back that we might do deeds different from those we did before?" They have, indeed, incurred heavy loss upon themselves and all the false things they had invented have forsaken them today.



[54-56] In fact, your Lord is Allah alone, Who created the heavens and the earth in six days, and then sat upon the Throne of His Kingdom; Who makes the night cover the day and then the day follows the night swiftly; Who created the sun, the moon and the stars, all of which are under His Command. Note it well: His is the creation and His the Sovereignty. Full of blessings is Allah, the Lord of the worlds. Invoke your Lord with humility and in secret; indeed He does not like the transgressors. Do not spread chaos on the earth after it has been set in order, and call your Lord with fear and with hope. Surely, the mercy of Allah is near to the righteous people.


[57-58] And it is Allah, Who sends winds as harbingers of the good tidings of His mercy; when they gather up heavy clouds He drives them on to some dead land, and makes the rain fall upon it and brings forth many kinds of fruit (from the same dead land). Look! This is how We bring forth the dead from the state of death; it may be that you learn a lesson from this observation. The soil which is rich, yields rich produce by Allah's permission and the soil which is poor yields nothing but poor produce. Thus We present Our Signs over and over again for those people who intend to be grateful.



[59-61] We sent Noah to his people; he said, "O my people, worship Allah; you have no deity other than He. I fear lest the chastisement befall you on a dreadful day." The chiefs of his people answered, "We clearly see that you are in obvious deviation." Noah replied, "O my people, I am not in any kind of deviation; on the contrary, I am a messenger from the Lord of the worlds."



[62-64] "I convey to you the Messages of my Lord and am your well-wisher for I know from Allah what you do not know. Do you think it strange that admonition from your Lord should come to you through a man from among your own people so that he may warn you and you may guard against error and be graced with mercy?" But they treated him as an impostor. Ultimately, We rescued Noah and those with him in the Ark and drowned those who rejected Our Revelations as false. Indeed they were a blind people!








[65-72] And to `Ad We sent their brother Hud: he said ,"O my people, worship Allah: you have no deity other than He. Will you not, then, refrain from wrong ways?" The chiefs of his people who rejected his Message, answered, "We clearly see that you are of unsound mind and we think that you are a liar." He replied, "O my people, I am not of unsound mind, but in fact, I am a Messenger from the Lord of the world. I convey the Message of my Lord to you and I am a trustworthy well-wisher of yours. Do you think it strange that admonition from your Lord should come to you through a man among your own people so that he may warn you? Do not forget that after Noah's people your Lord made you his successors and made you very robust. So remember the wonderful manifestations of Allah's power: it is expected that you will attain success." They replied, "Have you come to us (with the demand) that we should worship Allah alone and discard those whom our forefathers have been worshiping? Well, bring on us the scourge with which you have been threatening us, if you are truthful." To this, he replied, "You have already incurred the curse of Allah and His wrath. Do you dispute with me about mere names which you and your forefathers have invented, and for which Allah has sent down no authority? Well, you may wait and I, too, will wait with you." Ultimately, We saved Hud and his companions with Our Mercy, and We cut off the roots of those who treated Our Revelations as lies, and did not intend to believe.


[73-74] And to Thamud, We sent their brother Salih. He said, "O my people, worship Allah for you have no other deity save Him. A clear proof has come to you from your Lord: here is Allah's she-camel, a sign for you, so let her graze at will in Allah's land; do not touch her with any evil intention, lest a woeful scourge from your Lord seize you. And remember the time when Allah made you successors of `Ad and established you in the land with dignity and enabled you to make castles on the plains and hew out houses in the hills. So do not be neglectful of the manifestations of Allah's powers, and do not spread disorder on the earth."


[75-76] The chiefs of his tribe, who were full of pride, said to those who had believed from among the oppressed people, "Do you know it for certain that Salih is a Messenger from his Lord?" They replied, "Indeed we believe in the Message with which he has been sent." But those who had arrogant assumption of superiority said, "We deny that thing which you believe. "



[77-79] Then they killed the she-camel, and very insolently defied their Lord's command, and challenged Salih, "Bring that scourge with which you threaten us, if you really are one of the Messengers." Consequently a shocking catastrophe overtook them and they lay lifeless on their faces in their dwellings. So, Salih left their habitations, saying. "O my people! I conveyed the Message of my Lord to you and I did my very best for your good, but I am helpless because you do not like your well-wishers."





[80-84] And We sent Lot as a Messenger: Remember that he said to his people, "Have you become so shameless that you commit such indecent acts as no one committed before you in the world? You gratify your lust with men instead of women: indeed you are a people who are transgressors of all limits!" But the only answer of his people was no other than to say, "Turn out these people of your habitations for they pose to be very pious." At last We delivered Lot and the members of his household-except his wife, who was of those who stayed ' behind and We rained a rain upon his people then behold what happened in the end to the guilty ones!


[85-86] And to Madyan We sen t their brother Shu`aib: he said, " O my people, worship Allah: you have no other deity than He. A clear guidance has come to you from your lord: you should, therefore, give full measure and weight, and do not defraud the people of their goods, nor spread disorder on the earth after it has been set aright: this is better for you, if you are true Believers. And do not lie in ambush by every path (of life) as robbers, in order to frighten the people nor debar from Allah's Way those who believe in it, nor seek to snake the Right Way crooked. Remember the time, when you were a few in number: then Allah multiplied you: and behold with open eyes what happened to the spreaders of corruption!

[87] If there are among you some who believe in the teachings with which I have been sent and there are others who believe not, wait and see till Allah judges between us, for He is the best of all judges.


[88-89] The chiefs of his tribe, who were puffed up with pride, said to him, "O Shu`aib, we will banish you and those who have believed with you from our city, or you shall have to return to our fold." Shu`aib replied,"What! Will you turn us back forcibly to it, even if we abhor it? We shall be guilty of attributing a lie to Allah, if we return to your creed, after Allah has delivered us from it; nor can we now return to your creed, except that Allah, our Lord, wills it; the knowledge of our Lord embraces everything; in Allah we put our trust, Our Lord, judge with truth between us and our people, and Thou art the best of judges."




[90-93] The chiefs of his tribe, who had rejected his Message, said to one another, "If you follow Shu`aib, you will be utterly ruined." It, however, so happened that a shocking catastrophe overtook them and they remained lying prostrate in their dwellings. Those who treated Shu`aib as an impostor were so wiped out as if they had never lived in those dwellings. Ultimately the very people, who treated Shu`aib as an impostor, were utterly ruined. Then Shu`aib left the place, saying, "O my people! I conveyed the Messages of my Lord to you and I did my best for you as your well-wisher. Now, how should I be grieved for the people who reject the Truth!"






[94-99] Whenever We sent a Prophet to a habitation, We first afflicted its people with adversity and calamity so that they should humble themselves. Then We changed their adversity for good fortune till they became very prosperous and said, "Our forefathers also had their adversity and prosperity". At last We seized them all of a sudden when they were quite unaware. Had the people of the habitations believed and adopted the way of piety, We would have opened the doors of blessings from the heavens and the earth, but they denied the Truth; so We seized them for the evil they had earned. Do the people of the habitations now feel secure. that Our punishment will not come to them all of a sudden at night, while they might be fast asleep? Or, do they feel secure that Our punishment will not smite them all of a sudden during the day while they might be engaged in pastime? Are these people not afraid of Allah's secret plan? In fact, only those people are doomed to destruction, who are not afraid of Allah's secret plan.



[100-102] And, have not those people, who inherit the earth after its former occupants, learned a lesson from the fact that, if We please, We can seize them for their sins? (But they neglect the realities that teach a lesson) and We seal their hearts: then they do not listen to anything. These people whose stories We recount to you (can serve as examples to you). Their Messengers came to them with clear Signs, but they would not believe in what they had once denied. Behold, this is how We seal the hearts of the disbelievers. And We found in most of them no respect for any Covenant; nay, We found that most of them were transgressors.

[103] Then after the (above mentioned) communities, We sent Moses with Our Signs to Pharaoh and the chiefs of his nation, but they also treated Our Signs unjustly. Then behold, what happened in the end to the mischief-makers.


[104-105] Moses said, "O Pharaoh! I am a Messenger from the Lord of the universe. It behooves me to say in the name of Allah nothing but the truth. I have come to you from your Lord with clear Signs of my appointment: so send the children of Israel with me."

[106] Pharaoh answered, "If you have brought a Sign, and, if what you say is true, produce it"


[107-108] Thereupon, Moses threw down his staff, and behold, it became a real serpent all of a sudden. Then he drew his hand out of his pocket, and lo, it was shining before the beholders!








[109-116] At this the chiefs of Pharaoh's people said to one another, "Indeed this man is an expert magician. He intends to drive you out of your land; now what do you propose to do?" Then they all advised Pharaoh: "Put him and his brother off for a while, and send heralds to all the cities so that they should bring to you every expert magician". Accordingly, the magicians came to Pharaoh and said, "Shall we surely get great magic. Our reward, if we win ?" Pharaoh answered, "Yes, indeed, and you shall get a position close to me"
Then they said to Moses, "Will you throw down first, or should we throw down?" Moses answered, "You should throw down first".
When they threw down their devices, they bewitched the eyes of the people and terrified their hearts: for they had, indeed, produced a great magic.

[117] Then We inspired Moses to throw down his staff. No sooner did he throw it down than it began to swallow their false magic.





[118-122] Thus the Truth was established, and the falsehood which they had wrought proved vain. Pharaoh and his people were vanquished in the combat and (instead of being triumphant) they became humiliated. As regards the magicians, they were compelled to fall prostrate by something from within. hey said, "We have acknowledged the Lord of the worlds,- the Lord whom Moses and Aaron acknowledge."


[123-124] Pharaoh said, "Do you dare believe in Him before I permit you? Indeed, it was a plot you conspired in the capital to deprive the rightful owners of their power. Well, you shall soon know its consequences. I will have your hands and feet cut off on opposite sides and then will I have you all crucified."


[125-126] They answered, "At any rate, we have to return to our Lord; (as for you,) you want to take vengeance upon us only because we believed in the Signs of our Lord, when they came before us. O our Lord, bestow fortitude upon us, causing us to die as those who have surrendered to Thee".

[127] Then the chiefs of Pharaoh's nation said to him, "Will you leave Moses and his people free to spread disorder in the land, and let them discard your service and that of your deities?" Pharaoh answered, "Well, I will have their sons slain and let their women live: we have a strong hold over them."


[128-129] Moses said to his people, "Invoke Allah's help, and show fortitude. The land belongs to Allah. He gives it as a heritage to those of His servants whom He pleases: and the final success is for those who fear Him in all their doings." His people answered, "We were oppressed before you came to us and now also we are being oppressed since you have come to us." He said, "In the near future, your Lord will destroy your enemies, and make you vicegerents in this land; then He will see how you conduct yourselves. "





[130-134] Indeed We afflicted Pharaoh's people with several years of famine and scarcity of food so that they should come to their senses. But they responded like this: whenever a good time came; they would say, "This is but our due" and when there was a hard time, they would ascribe their calamities to Moses and those with him. Whereas, in fact, their misfortune was in the hand of Allah; but most of them did not know this. They said to Moses, "We are not going to believe in you, whatever Sign you may bring to enchant us." At last We let loose upon them the storm, the locusts, the lice, and the frogs, and rained blood upon them. Though We showed these Signs, one by one, they persisted in their rebellion; for they were steeped in crime. Whenever a plague befell them, they would say, "O Moses! Pray for us to Allah in the name of the office you hold from Him. If you help remove the plague from us this time, we will believe in you, and send the Israelites with you."



[135-137] But as soon as We removed the plague from them after the expiry of the term that had been fixed for them, they would at once break their promise. Then We took Our vengeance on them and drowned them in the sea because they had treated Our Signs as false and had grown heedless of them. And after them We gave as heritage to those who had been abased and kept low, the eastern and western parts of that land, which had been blessed bountifully by Us. Thus the promise of prosperity that your Lord had made with the Israelites was fulfilled, because they had shown fortitude. And We destroyed all that Pharaoh and his people had constructed and raised up.




[138-141] We led the Israelites across the sea; then they started on their journey, and came upon a people who were zealously devoted to their idols. They said, "O Moses, make a god also for us like the gods these people have." Moses replied "Indeed, you are a people who are behaving very foolishly. The way these people are following is doomed to destruction and the works they are performing are absolutely vain. " Then he further said, "What! should I seek a god for you other than Allah: when it is He Who has exalted you above all the nations of the world? And (Allah says), "Recall the time when We rescued you from the people of Pharaoh, who afflicted you with a dreadful torment; they slew your sons and let your women live and in this was a great trial for you from your Lord!"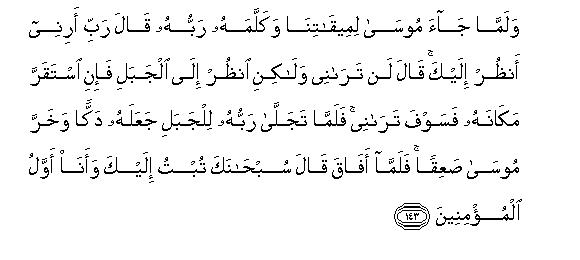 [142-144] We summoned Moses to Mount Sinai for thirty nights and days, and We added to them ten, thus the term appointed by his Lord became full forty nights and days. Before leaving, Moses said to his brother Aaron, "After me take my place among my people and do the right, and do not follow the way of the mischief-makers." When Moses arrived there at the appointed time and his Lord spoke with him, he beseeched, "Lord, give me power of sight so that I may look upon Thee. " He answered, "You cannot see Me. Well, you may just look towards the yonder Mountain; if it remains firm in its place, then you shall behold Me." Accordingly, when his Lord manifested His glory on the Mountain; that turned it into fine dust, and Moses fell in a swoon. when he came to himself, he said, "Glory be to thee! I repent before Thee, and I am the first of those who believe." He said, "O Moses! I have chosen you from among all the people to deliver My Message and to have conversation with Me: so take whatever I give you and be grateful."



[145-147] After this, We inscribed upon the tablets admonitions concerning every branch of life and clear instructions about all its aspects and gave these to Moses and said to him, "Hold fast to the precepts steadfastly, and enjoin your people to follow them according to their best sense. In the near future, I shall show you the abode of the wicked people.' I will turn away from My Signs the eyes of those who without any sight behave haughtily on the earth. Whatsoever Sign they might see they will never believe in it. If they see the Right Way before them, they will not follow it; but if they see a crooked way, they will follow it. That is because they treated Our Signs as false and were heedless of them. Whoever treated Our Signs as false and denied the meeting in the Hereafter their deeds became vain. Can the people get any recompense except according to what they have wrought?"






[148-153] In his absence the people of Moses made from their ornaments the image of a calf which made sound like lowing. Did they not see that it could neither speak to them nor guide them in any matter? Yet they took it for a god, for they were wrong-doers. But when the enchantment of self delusion was broken and they realized that they had, in fact, gone astray, they said, "If our Lord does not have mercy on us and does not forgive us we shall be losers." In the meanwhile when Moses full of anger and sorrow returned to his people, he said, "Very evil is it that you have done in my place after me! Could you not patiently wait for the Commandment of Allah?" And he threw down the tablets, and, seizing his brother by the hair of his head, dragged him. Aaron said, "Son of my mother, these people overpowered me and were going to kill me: so, let not the enemies gloat over me: do not count me among the people who have done wrong." Then Moses said, "O Lord, forgive me and my brother, and admit us to Thy mercy; Thou art the Most Merciful of all." (In response to this Allah said,) "Allah's wrath shall surely overtake those who made the calf a god, and they shall be abased in the life of this world, that is how We punish those who invent falsehood. But those who do evil deeds, then repent after this and believe, will after this repentance and belief most surely find your Lord Forgiving and Merciful."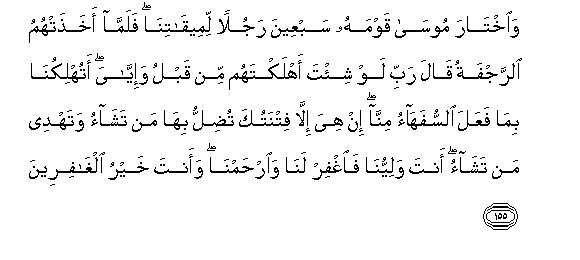 [154-156] When Moses' anger was allayed, he took up the tablets in whose writing was guidance and mercy for those who fear their Lord. And Moses chose from among his people seventy men (to accompany hall) to attend a meeting appointed by Us. When a severe earthquake seized them, Moses prayed, "My Lord, if Thou hadst willed, Thou could have destroyed them and me before this: wouldst Thou destroy rill of us for the offense committed by some foolish people from among us? This was a trial set by Thee, whereby Thou leads astray whom Thou wilt and guides whom Thou wilt. Thou alone art our Protector; so forgive us and have mercy on us for Thou art the best of all forgivers! And ordain for us what is good in this world as well as in the world to come; we have turned to Thee". He replied, "As to punishment, I inflict it on anyone I will, but My mercy embraces everything. So I will prescribe it for those who will refrain from disobedience, pay the Zakat, and believe in My Revelations."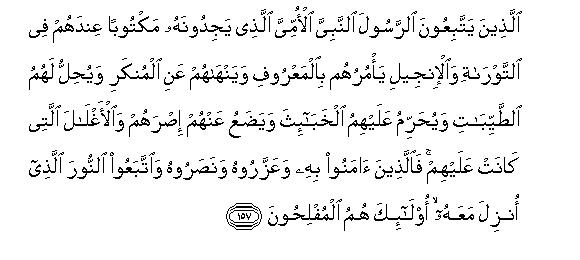 [157-158] (So. now mercy has been assigned to those) who follow this Messenger, the Ummi Prophet whose mention they shall find in the Torah and the Gospel with them. He enjoins them to follow virtue and forbids them from evil: he makes pure things lawful for them and impure things unlawful. He relieves them of their burdens and frees there from the shackles that bound them. For this reason those alone who believe in him and support hire and succor him and follow the light that has been sent down with him, shall attain "success". O Muhammad, say, "O mankind, I am a Messenger to all of you from Allah to Whom belongs the kingdom of the heavens and tire earth. There is no deity but He. He bestows life and ordains death. So believe in Allah and His Messenger, the Ummi Prophet, who believes in Allah and His Commandments. Follow him: it is expected that you will be guided aright."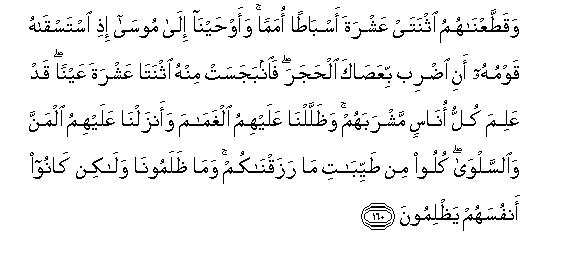 [159-160] Among, the people of Moses there were some who guided (others) with tire Truth and judged the affairs with the Truth. And We had divided them into twelve clams and made them distinct Communities. When his people asked him tar water. We inspired Moses to strike a certain rack with his staff. Consequently, twelve springs gushed forth from it and each community specified its drinking place: We caused the cloud to cast shadow over them, and We sent down manna and salva for their food. saying. "Eat of the clean and pure things We have provided for you." However, by doing what they did afterwards, they did no wrong to Us but they wronged themselves.


[161-162] And call to mind the time when it was said to them, "Go and dwell in this town, and get therefrom provision for yourselves out of its produce, according to your liking, and say "hittatun, hittatun," and enter the gate of the town, bowing down with humility. We shall pardon your sins and increase all the more the rewards of the doers of good" . But those from among them who were bent on wrongdoing changed that word which had been said to them. Consequently, We sent down scourge upon them from heaven because of the wrongs they were doing.




[163-166] And ask them about the township which was situated on the sea shore. Remind them of what befell its people who used to break the Sabbath (Saturday). Each Sabbath-day the fish appeared in abundance before them on the surface of the water but did not appear at all on other days than Sabbath. This was because We were putting them to test on account of the acts of disobedience they did. Also remind them that when some people from among them asked the others the answer that was given by some of them, "Why do you admonish those people whom Allah is about to destroy or punish severely?" they replied, "We admonish them in order to be able to offer an excuse before your Lord and we also hope that they might refrain from disobedience to Him." However, when they totally forgot the teachings they were reminded of, We saved those who used to forbid evil, and seized with a severe scourge all others who were transgressors, because of the acts of disobedience they did. But when even after this they disdainfully persisted in that from which they were forbidden, We said to them, "Become apes-- despised and disgraced!"

[167] And recall the time when your Lord declared, "I will set over the Israelites over and over again up to the Day of Resurrection, people who should inflict upon them the severest torment." Your Lord, indeed, is swift in retribution, and He is indeed also Forgiving and Merciful.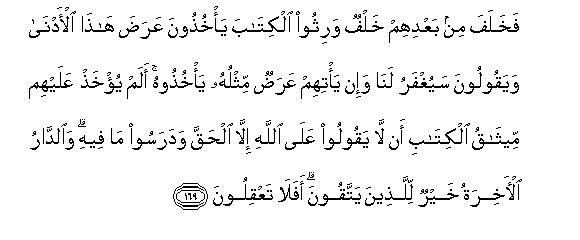 [168-170] And We divided them into many separate communities all over the earth: some of these people were righteous and some of them were different from this: We tested them with prosperity and with adversity so that they might turn back. Then after the following generations, unworthy people succeeded them: they inherited the Book, but in spite of this they grab the fleeting good things of this low world, and say. "We expect to be forgiven." Yet if similar worldly things again come before them. they again grab them. Has not the Covenant of the Book been taken from them that they should ascribe to Allah nothing but the truth? And they themselves have studied well that which is written in the Book. And the abode of the Hereafter is better for those who fear Allah. Do you not understand even this thing? As for those who strictly observe the Book and establish Salat, surely We will not let go waste the reward of such righteous people.

[171] Do they also remember the time when We shook the Mountain and spread over them as though it were an umbrella, and they thought that it was going to fall upon them; (then We said to them), "Hold fast the Book We are giving you, and keep in mind what it contains: it is expected that you will refrain from wrong ways."



[172-174] And, O Prophet, remind the people of the time, when your Lord brought forth from the loins of the Children of Adam, their descendants and made them bear witness about themselves. He asked them, "Am I not your Lord?" They replied, "Most certainly, Thou alone art our Lord; we bear witness to this. " This We did lest you should say on the Day of Resurrection, "We were unaware of this thing," or lest you should say, "Our forefathers started the practice of shirk before us and we were born after them to their descendants: dost Thou. then, punish us for the sin that was committed by the wrongdoers?" Behold, this is how We make Our Signs clear so that these people return to the right way.


[175-176] And, O Muhammad, relate to them the story of the person whom We had given the knowledge of Our Revelations, but he turned away from their observance. Then Satan pursued him until he became one of those who had gone astray. If We had willed We would have exalted him by means of those revelations, but he clung on to the earth and followed his own lusts. Therefore he began to behave like a dog: it lolls out its tongue if you chase it away and it lolls out its tongue if you leave it alone. Such is the likeness of those who treat Our Revelations as false.



[177-179] You should go on relating these stories to them: it may be that they consider them seriously. Very bad is the example of those who treated Our Revelations as false and they have been doing wrong to their own selves. Only he whom Allah guides is rightly guided, and they whom Allah deprives of His guidance become losers. And this is a tact that there are many jinns and human beings whom We Dave created (as if) for Hell. they have hearts but they do not think with them; they have eyes but they do not see with them; they have ears but they do not Hear with them. They are like animals; nay.,even worse, for they are the people who have become utterly heedless.




[180-183] Allah is entitled to most excellent names: so call Him by excellent names only and leave alone those who deviate froth the Truth in giving names to Him; they shall be recompensed for what they have been doing. From among those We have created, there are some who guide with the truth and do justice therewith. As regards those who have treated Our Revelations as false, We will gradually lead them on to ruin in a way they will not know. Though I am giving them a respite, My plan is infallible.



[184-186] And have they never reflected on this matter? There is no tinge of unsoundness of mind in their companion; he is a Warner, who is warning plainly (beforehand of the evil consequence). Have they never considered the functioning of the heavens and the earth, and have they never observed closely anything that Allah has created? And has it never occurred to them that their life might have come near to its end? Then what else can there be in which they will believe after this warning of the Messenger? Whomever Allah deprives of guidance has no guide, for Allah leaves such people wandering about blindly in their contumacy.


[187-188] These people ask you: "Well, when is the Hour of Resurrection coming?" Say, "Its knowledge is with my Lord alone: He Himself will disclose it at the proper time: that Hour will weigh heavily on the heavens and the earth. It will come on you all of a sudden. " They ask you about it as though you have been in search for it. Say; "Its knowledge is with Allah alone, but most of the people do not know this. " Tell them, O Muhammad, "I have not the power to bring any good to or avert any harm from myself: only that happens which Allah wills. Had I the knowledge of the unseen, I would have acquired many benefits for myself and would never have suffered any harm. I am merely a Warner, and a bearer of good news to those who believe in what I say."






[189-195] It is Allah Who created you from one being, and of the same species He made his mate, so that he may have a tranquil life with her. Then when a man covered a woman, she bore a light burden with which she moved about. But when she became heavy with it, both of them prayed together to Allah, their Lord: "If Thou givest us a sound child, we will be grateful to Thee. " But when Allah gave them a child of sound body and sound mind, they both began to associate partners with Allah in His favor, but Allah is exalted far above what they associate with Him. How foolish are these people! They associate with Him partners who do not create anything but are themselves created, who cannot help them nor have power to help themselves. If you invite them to follow the Right Way, they will not follow you; it will be all the same for you whether you call them or keep silent. Those whom you invoke besides Allah are mere servants of Allah like you: just invoke them, and, if what you say of them be true, they will answer your prayers. Have they feet that they should walk with them? Or have they hands that they should hold with them? Or have they eyes that they should see with them? Or have they ears that they should hear with them? Tell them, O Muhammad. "Call up the partners you have set up; then all of you sit down together and plot against me and give me no respite."



[196-198] My Protector and Helper is Allah who has sent down this Book, and Who protects the righteous people. On the contrary, those whom you call beside Allah, cannot help you nor can they help themselves. Nay, if you call them to the Right Way, they cannot even hear what you say; though it would appear to you that they are looking at you, in fact, they do not see anything."




[199-202] O Prophet, adopt the way of leniency and forbearance; enjoin what is good and avoid useless discussions with the ignorant people. If Satan ever excites you to anger, seek refuge in Allah: He is All-Hearing, All-Knowing. The fact is that if ever an evil suggestion from Satan so much as touches those, who are God fearing people, they immediately get alerted and clearly see the right course they should adopt. As regards their (that is, Satan's) brethren, they drag theta on and on in their crooked ways and leave nothing undone to seduce them.


[203-204] O Prophet, when you do not show them a Sign (miracle), they say, "Why have you not chosen a sign for yourself?" Tell them "I follow only the Revelation, which my Lord has sent down to me: this contains lights of insight from your Lord, and is guidance and mercy for those who believe in this. When the Qur'an is recited to you. listen to it with attention and keep silence: it tray be that you also are blessed with mercy."


[205-206] O Prophet, remember your Lord morning and evening, deep in your heart with humility and with fear, and also in a low voice with your tongue: do not be of those who are heedless. Indeed the angels, who are near to your Lord in rank, do not turn away in pride from His service. They glorify Him. and bow down before Him.