بسم الله الرحمن الرحيم
Sayyid Abul Ala Maududi - Tafhim al-Qur'an - The Meaning of the Qur'an
---
34. Surah Saba (The Sabaeans)
Name
The Surah takes its name from verse 15 in which the word Saba has occurred, which implies that it is the Surah in which mention has been made of Saba (i. e. the Sabaeans).
Period of Revelation
The exact period of its revelation is not known from any reliable tradition. However, the style shows that it is either the middle or the early Makkan period. If it is the middle period, it was probably its initial stage when the persecution had not yet become tyrannical and the Islamic movement was being suppressed only by resort to derision and ridicule, rumor mongering, false allegations and casting of evil suggestions in the people's minds.
Theme and Subject Matter
The Surah deals with those objections of the disbelievers, which they were raising against the Holy Prophet's message of Tauhid and the Hereafter, and about his Prophethood itself, mostly in the form of absurd allegations and taunts and mockery. These objections have been answered, sometimes by citing them and sometimes without citing them, and the discourse itself shows which objection is being answered at a particular place. The answers mostly take the form of instruction and admonition and argument, but at some places the disbelievers have been warned also of the evil consequences, of their stubbornness. In this connection, the stories of the Sabaeans and the Prophets David and Solomon have been related to impress this lesson: "You have both these historical precedents before you. On the one hand, there were the Prophets David and Solomon, who had been blessed by Allah with great powers and such grandeur and glory as had been granted to hardly any people before them. In spite of this, they were not proud and arrogant, but remained grateful servants of their Lord. They were never rebellious. On the other hand, there were the people of Saba, who, when blessed by Allah, became proud, and were consequently so thoroughly destroyed and dispersed as to be remembered only in myths and legends. With these precedents in view, you may see and judge for yourselves as to which bind of the life is better: that which is built on belief in Tauhid and the Hereafter and the attitude of gratefulness to Allah, or that which is based on disbelief and shirk and denial of the Hereafter and the worship of the world."

In the name of Allah, the Compassionate, the Merciful.


[1-2] Praise is for Allah alone Who is the Owner of everything in the Leavens and the earth, and the praise is for Him alone in the Hereafter, too. He is the All-Wise, the All-Aware. He knows whatever goes into the earth and whatever comes out of it; and whatever comes down from the sky and whatever ascends into it: He is the All-Merciful, the All-Forgiving.




[3-6] The disbelievers say, "How is it that the Resurrection is not coming upon us?" Say, "By my Lord, Knower of the Unseen, it shall certainly come upon you. Not an atom's weight of anything is hidden from Him, neither in the heavens nor in the earth, nor anything smaller than an atom nor greater than it: everything is recorded in a clear register." Resurrection shall take place so that Allah may reward those who have believed and done good works. For them there is forgiveness and a generous provision. As for those who have striven hard to discredit Our Revelations, for them there is a painful torment of the worst kind. O Prophet, those who possess the knowledge fully well know that whatever has been revealed to you from your Lord, is the very Truth, and it guides to the Way of the All-Mighty, All-Praiseworthy God.


[7-8] The disbelievers say to the people, "Shall we point out to you a man who gives the news that when your body will have been scattered into particles, you will be resurrected once again? No one knows whether this man forges a lie in the name of Allah or is mad."

[9] Nay, but those only, who do not believe in the Hereafter, will incur the punishment and they are involved in gross error. Have they never seen the earth, which surrounds them from front and from behind? If We will, We can sink them underground, or cause some fragments of the sky to fall down upon them. There is' indeed a Sign in this for every such servant who turns to God.


[10-11] We had blessed David with a great bounty from Ourself. (We commanded:) "O mountains, join with him in glorification," and (the same Command We gave to) the birds. We made iron soft for him, saying, "Make coats of mail and set the rings in proper measure." (O people of David,) "Do good works: surely I see whatever you do."


[12-13] And for Solomon We subjected the wind which covered a month's journey in the morning and a month's journey in the evening and We made a fountain of molten copper to flow for him and subdued such jinns to him who served before him by the command of his Lord. Whoever from among them swerved from Our Command, We made him taste the brazing Fire. They made for him whatever he desired: lofty edifies, images, bowls like troughs and immovable heavy cooking-pots. O people of David, work gratefully, only a few of My servants are grateful.

[14] Then, when we decreed death for Solomon, there was nothing to inform the jinns of his death except the wood louse which was eating away his staff. So, when Solomon fell down, it became clear to the Jinns that if they had known the unseen, they would not have continued in the humiliating torment.



[15-17] For Saba there was a Sign in their own dwelling-place: two gardens, on the right and on the left: eat of the provisions of your Lord and be grateful to Him: pure and pleasant is the land and Forgiving the Lord. But they turned away. Consequently, We sent upon them a flood due to bursting of the dam and replaced their two gardens by two other gardens producing bitter fruit and tamarisks and a few lote bushes. This was Our retribution for their disbelief and We recompense none with such a retribution except the ungrateful.




[18-21] And We had made between them and the habitations which We had blessed, (other) conspicuous habitations and set between them their traveling distances, "Travel on these ways night and day in complete security. " But they said, "Our Lord, make our journeys longer." They wronged their own selves. Consequently, We made them mere legends and scattered them utterly. Surely there are Signs in this for every patient and grateful person. In their case Iblis found his suspicions correct, and they all followed him except for a small group of the believers. Iblis did not have any power over them, but whatever happened, it happened because We wanted to see who believed in the Hereafter and who cherished any doubt about it. Your Lord is Watchful over everything.


[22-23] (O Prophet,) say (to the mushriks), "Call those whom you worship as deities instead Of Allah. They neither own an atom's weigh of anything in the heavens nor in the earth, nor have they anything to share in either, nor is any of them a helper of Allah. And no intercession before Allah can avail anyone except for the one for whom Allah permits it. So much so that when dread is gone from their hearts, the people will ask (the intercessors), "What reply did your Lord give?" They will say, '`The right reply! And He is the Exalted, the Great!"




[24-27] (O Prophet), ask them, "Who gives you sustenance from the Heavens and the earth?" Say, "Allah Only either we or you are on the Right Way or in manifest error." Say to them, "You will not be questioned for the errors we have committed, nor shall we be answerable for what you are doing." Say, "Our Lord will gather us together, then He will judge between us rightly. He is such a great Judge Who knows everything." Say to them, "Just show me those whom you have made associates-with Him." Nay, never! Allah alone is the All-Mighty, the All-Wise.

[28] And (O Prophet,) We have sent you to the entire mankind as a bearer of good news and a warner, but most people do not know.


[29-30] These people say to you, "When will the promise (of Resurrection) be fulfilled if you are truthful?" Say, "For you the appointment of a day is fixed, which you can neither hold back for an hour nor hasten on by an hour."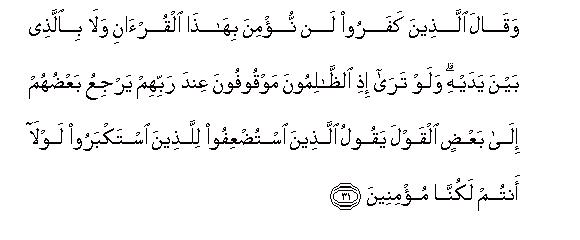 [31-33] The disbelievers say, "We shall never believe in this Qur`an, nor in any other Book which came before it." Would that you could see these wicked people at the time when they will be standing before their Lord! Then, they will blame one another. Those who had been oppressed in the world, will say to the arrogant, "But for you we would have been the believers." The arrogant ones will say to the oppressed once, "Did we hinder you from the guidance when it came to you? Nay, but you yourselves were guilty." The oppressed ones will say to the arrogant ones. "Nay, but it was your plotting by day and night when you told us to deny Allah and to set up others as equals with Him." At last, when they will see the torment, they will repent in their hearts, and We shall put fetters on the necks of the disbelievers. Can the people be requited except in accordance with their deeds?





[34-38] It has never happened that We sent a warner to a habitation and its people of means did not say, "We disbelieve the message you have brought." They always said this: "We have more wealth and children than you, and we shall never be punished." O Prophet, say to them, "My Lord gives abundantly to whom He wills and sparingly to whom He wills, but most people do not realize this." It is not your wealth and your children, which bring you nearer to Us, save him who believes and does good works. These are the ones who will have a double reward for their deeds, and they will live in peace in high mansions. As for those who strive hard in order to frustrate Our Revelations, they shall be severely punished.

[39] O Prophet, say to them, "My Lord gives abundantly to whomever of His servants He wills and sparingly to whom He wills. Whatever you spend, He replenishes it by other provisions: He is the best of Providers."



[40-42] And the Day when He will gather all mankind together, He will ask the angels, "Did they really worship you?" They will reply, "Glory be to Thee: our connection is with Thee, not with them. They, in fact, worshiped the jinns, not us. It was in them that most of them believed." (At that time We shall say:) "Today you can neither help nor harm one another." And to the wrongdoers We shall say, Now taste the torment of Hell which you used to deny."



[43-45] When Our clear Revelations are recited to these people, they say, "This person only wants to turn you away from those deities whom your forefathers have been worshiping." And they say, "This (Qur'an) is only a forged falsehood." When the Truth came before these disbelievers, they said, "This is plain magic," whereas We had neither given them a book before that they might study it, nor sent to them any warner before you. Those who have gone before them denied likewise. These people have not attained even a tenth of what We had given them. But when they treated My Messengers as liars, see how severe was My punishment!





[46-50] O Prophet, say to them, "I shall advise you of one thing: Think hard singly or in twos for the sake of Allah and reflect as to what is there of madness in your companion. He is only a warner to you before the coming of a dreadful torment." Say to them, "If I have asked you for a reward, keep it with yourselves, for my reward is with Allah and He is a witness over everything." Say to them, "My Lord inspires (me) with the Truth, and He is the Knower of all the hidden realities." Say, "The Truth has come; now falsehood cannot succeed whatever it may do." Say "If I have gone astray, the burden of my going astray is on myself alone, and if I am on right guidance, it is by virtue of what my Lord reveals to me. He hears everything and is - near at hand."


[51-52] Would that you could see these people when they will be in a state of confusion! They will not be able to escape but will be seized from a place close by. Then they will say, "We believe in it," whereas they cannot attain a thing gone far out of hand.


[53-54] Even before they had disbelieved and used to conjecture without true knowledge. At that time they will be deprived of that which they will desire, as will have been deprived their likes before them: Indeed they had been involved in a misleading suspicion.