بسم الله الرحمن الرحيم
Sayyid Abul Ala Maududi - Tafhim al-Qur'an - The Meaning of the Qur'an
---
3. Surah Al i Imran (The Family of Imran)
Name
This Surah takes its name from v. 33. Al-i-Imran, like the names of many other surahs, is merely a name to distinguish it from other surahs and does not imply that the family of Imran has been discussed in it.
The Period of Revelation
This Surah consists of four discourses The first discourses :-
The first discourse (vv. 1-32) was probably revealed soon after the Battle of Badr.
The second discourse (vv. 33-63) was revealed in 9 A. H. on the occasion of the visit of the deputation from the Christians of Najran.
The third discourse (vv. 64-120) appears to have been revealed immediately after the first one.
The fourth discourse (vv. 121-200) was revealed after the Battle of Uhd.
Subject
Though these discourses were revealed at different periods and on different occasions, they are so inter-linked and so inter-connected iii regard to their aim, object and central theme that they make together one continuous whole. This Surah has been especially addressed to two groups-the people of the Book (the Jews and the Christians) and the followers of Muhammad (Allah's peace be upon him).
The message has been extended to the Jews and the Christians in continuation of the invitation in Al-Baqarah, in which they have been admonished for their erroneous beliefs and evil morals and advised to accept, as a remedy, the Truth of the Quran. They have been told here that Muhammad (Allah's peace be, upon him) taught the same right way of life that had been preached by their own Prophets; that it alone was the Right Way, the way of Allah; hence any deviation from it will be wrong even according to their own Scriptures.
The second group, the Muslims, who had been declared to be the best Community in Al-Baqarah and appointed torch-bearers of the Truth and entrusted with the responsibility of reforming the world, have been given additional instructions in continuation of those given in the preceding Surah. The Muslims have been warned to learn a lesson from the religious and moral degeneration of the former communities and to refrain from treading in their footsteps. Instructions have also been given about the reformative work they had to perform. Besides this, they have been taught how to deal with the people of the Book and the hypocrites who were putting different kinds of hindrances in the way of Allah. Above all, they have been warned to guard against those weaknesses which had come to the surface in the Battle Uhd.
Background
The following is the background of the Surah:
The Believers had met with all sorts of trials and hardships about which they had been forewarned in Al-Baqarah. Though they had come out victorious in the Battle of Badr, they were not out of danger yet. Their victory had aroused the enmity of all those powers in Arabia which were opposed to the Islamic Movement. Signs of threatening storms had begun to appear on all sides and the Muslims were in a perpetual state of fear and anxiety. It looked as if the whole Arabian world around the tiny state of Al-Madinah - which was no more than a village state at that time -- was bent upon blotting out its very existence. This state of war was also adversely affecting its economy, which had already been badly disturbed by the influx of the Muslim refugees from Makkah.

Then there was the disturbing problem of the Jewish clans who lived in the suburbs of Al-Madinah. They were discarding the treaties of alliance they had made with the Holy Prophet after his migration from Makkah. So much so that on the occasion of the Battle of Badr, these people of the Book sympathized with the evil aims of the idolaters, in spite of the fact that their fundamental articles of the Faith - Oneness of Allah, Prophethood, Life-after- death -- were the same as those of the Muslims. After the Battle of Badr, they openly began to incite the Quraish and other Arab clans to wreak their vengeance on the Muslims. Thus those Jewish clans set aside their centuries-old friendly and neighborly relations with the people of Al-Madinah. At last when their mischievous actions and breaches of treaties became unbearable, the Holy Prophet attacked the Bani- Qainu-qa'a, the most mischievous of all the other Jewish clans who had conspired with the hypocrites of Al-Madinah and the idolatrous Arab clans to encircle the Believers on all sides. The magnitude of the peril might be judged from the fact that even the life of the Holy Prophet himself was always in danger. Therefore his Companions slept in their armors during that period and kept watch at night to guard against any sudden attack, and whenever the Holy Prophet happened to be out of sight even for a short while, they would at once set out in search of him.

This incitement by the Jews added fuel to the fire which was burning in the hearts of the Quraish and they began to make preparations to avenge the defeat they had suffered at Bad. A year after this an army of 3,000 strong marched out of Makkah to invade Al-Madinah and a battle took place at the foot of Mount Uhd. The Holy Prophet came out of Al-Madinah with one thousand men to meet the enemy. While they were marching to the battle-field, three hundred hypocrites deserted the army and returned to Al- Madinah, but there still remained a small band of hypocrites among the seven hundred who accompanied the Holy Prophet. They played their part and did their worst to create mischief and chaos in the ranks of the Believers during the Battle. This was the first clear indication of the fact that within the fold of the Muslim Community there was quite a large number of saboteurs who were always ready to conspire with the external enemies to harm their own brethren.

Though the devices of the hypocrites had played a great part in the set-back at Uhd, the weaknesses of the Muslims themselves contributed no less to it. And it was but natural that the Muslims should show signs of moral weakness for they were a new community which had only recently been formed on a new ideology and had not as yet got a thorough moral training. Naturally in this second hard test of their physical and moral strength, some weaknesses came to the surface. That is why a detailed review of the Battle of Uhd was needed to warn the Muslims of their shortcomings and to issue instructions for their reform. It should also be noted that this review of the Battle is quite different from the reviews that are usually made by generals on similar occasions.
Subject: Guidance
This Surah is the sequel to, Al-Baqarah and the invitation therein is continued to the people of the Book. In Al-Baqarah the Jews were pointedly invited to accept the Guidance and in this Surah the Christians have particularly been admonished to give up their erroneous beliefs and accept the Guidance of the Quran. At the same time, the Muslims have been instructed to nourish the virtues that may enable them to carry out their obligations and spread the Divine Guidance.
Topics and their Interconnection
In these introductory verses, the fundamental truths about Allah, Revelation and Life-after-death have been reiterated to serve as fitting preliminaries, leading to the main topics discussed in the Surah. 1 - 32
This discourse is particularly addressed to the Christians and invites them to accept Islam. It clears Jesus and his mother not only from the stigma maliciously set upon them by the Jews, but also refutes the erroneous Christian creed of the Divinity of Jesus which had been formulated because of his miraculous birth. For this purpose the instances of John the Baptist to a barren woman and an extremely aged man and that of Adam without father and mother have been cited to show that there is nothing in the birth of Jesus without a father to entitle him to Divinity. 33 - 65
In these verses the people of the Book, the Jews, have been invited to give up their sinister ways and accept the divine Guidance. At the same time the Muslims have been warned to be on their guard against their malicious intentions, erroneous ways and absurd objections. 66 - 101
The Muslims have been instructed to learn lessons from the history of the people of the Book and also to guard themselves against their machinations, and to prepare and train themselves to establish virtue and eradicate evil. 102 - 120
In this portion, a review of the Battle of Uhd has been mad to teach and reassure the Muslims that the machinations of their enemies could do them no harm, if they would practice restraint and fortitude and have fear of Allah. It has been pointed out that the set-back they had suffered was due to the lack of some moral qualities and the existence of some evils. Since the main cause of the defeat was the greed of the archers, guarding the pass, the taking of interest has been prohibited to eradicate this evil. 121 - 175
The main theme of the verses 109 - 120 has been resumed to reassure and encourage the Muslims against the dangerous plots of their enemies. 175 - 189
This is the conclusion of the Surah and is not directly connected with the verses immediately preceding it but with the theme of the Surah as a whole. 190 - 200

In the name of Allah, the Compassionate, the Merciful.


[1-2] Alif. Lam. Mim. Allah! He is the Ever-living, the Sustainer of the Universe. In reality there is no god but He.


[3-4] He has sent down to you the Book, which has brought the Truth and confirms the Scriptures which preceded it. Before this, He sent down the Torah and the Gospel for the guidance of mankind, and He has sent down the Criterion (of right and wrong). Now there shall be a severe punishment for those who reject the Commandments of Allah: for Allah is Almighty, Avenger of wickedness.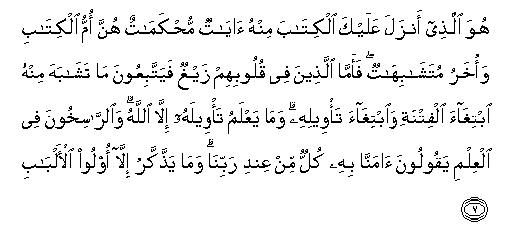 [5-9] Nothing in the Earth or in the heavens is hidden from Allah. It is He Who shapes you in the wombs of your mothers as He wills. There is no deity but He, the Al-Mighty, the All-Wise. It is He Who has sent down this Book to you. There are two kinds of verses in this Book: muhkamat (which are precise in meaning: ) they are the essence of the Books and the other kind is mutashabihat (which are ambiguous. ) Those, who are perverse of heart, always go after the mutashabihat in pursuit of mischief and try to interpret them arbitrarily, whereas in fact, none save Allah knows their real meanings! In contrast to them, those, who possess sound knowledge, say, "We believe in them because all of them are from our Lord." And the fact is that only the people of insight can learn lessons from such things. They pray to Allah, "Our Lord, let not our hearts become perverse after 'Thou hast once guided us aright, bestow upon us mercy from Thyself for Thou art the real Benefactor! Lord! Thou wilt surely gather all mankind together on a Day which is inevitable, for Thou never failest to fulfil Thy promise."




[10-13] As for those, who have adopted the attitude of disbelief, neither their riches nor their children shall avail them against Allah: they shall become fuel for Hell. Their end shall be the same as that of the people of Pharaoh and other disbelievers who went before them; they treated the Divine Revelations as falsehoods and Allah seized them because of their sins; for Allah is very stern in retribution. Therefore, O Muhammad, say to those who have rejected your Message, "The time is approaching fast when you shall be overpowered and driven to Hell: and Hell is a horrible abode. You have already had a Sign in the two hosts which met on the battle-field (at Badr). One of these hosts was fighting for the cause of Allah and the other was of the disbelievers: the lookers-on saw with their own eyes that the host of the disbelievers, was twice as big as that of the believers, but (the result of the Battle proved conclusively that) Allah strengthens with His succour whom He wills: there is truly a great lesson hidden in it for those who have eyes to discern."




[14-17] Love of lusts for women and children. hoarded Heaps of gold and silver, choicest horses, cattle and corn fields, has been made very tempting for people, but these are mere provisions for the transitory life of this world; the ever-lasting and the best abode, however, is with Allah. Say, "Should I tell you a thing better than these? There will be Gardens underneath which canals flow for those, who adopt the attitude of piety; there they will dwell for ever and will have pure spouses and they will enjoy Allah's favour. And Allah watches very closely the conduct of His servants." These are the people, who say, "Lord, we have believed sincerely; forgive us our sins and save us from the fire of Hell." They show fortitude, are truthful, obedient and charitable, and implore Allah's forgiveness in the early hours of the morning.

[18] Allah Himself has testified to the fact that there is no deity save Him: the angels and all those endowed with knowledge testify the fact with truth and justice that there is no deity save the All-Mighty the All-Wise.


[19-20] Indeed, Islam is the only right way of life in the sight of Allah. Those who were given the Book, had adopted ways different from this Way for no other reason than to enable themselves to behave unjustly towards one another, after knowledge .had come to them; they should know that Allah is very prompt at reckoning with those who deny and reject His Commandments and Guidance. Now, if they dispute with you, tell them, "As for me and my followers, we have surrendered to Allah." Then ask those, who possess the Book and those who do not, "Have you also surrendered to Him"? If they have surrendered, they are rightly guided. But if they turn away (you need not worry), for your sole responsibility was to convey the Message. As to the consequence, Allah Himself watches closely what His servants do.


[21-22] Give the good tidings of a painful chastisement to those who reject Allah's .Revelations and slay His Prophets unjustly and are deadly against those who rise up from among the people to enjoin right and justice. They are the ones whose works have come to naught in this world and in the Next, and they have no helpers.



[23-25] Have you not marked the behaviour of those who have received a share of the knowledge of the Book? When they are invited to the Book of Allah so that it may judge between them, some of them evade it and turn away from Its judgement. They do this because they say, "The fire of Hell is not going to touch us and even if it does at all, it will be only for a few days." Such self invented beliefs have involved them in various kinds of misunderstandings about their religion. But what will they do when We will gather them together on the Day which is sure to come? On that day, everyone will be paid in full for what one has earned, and none shall be wronged.


[26-27] Say, "O Allah, Sovereign of the Kingdom, Thou bestowest kingdom on whomever Thou wilt and Thou takest it away from whomever Thou wilt. Thou exaltest whomever Thou wilt and Thou abasest whomever Thou wilt. All that is good is in Thy power: indeed Thou hast full power over all things. Thou causest the night to pass into the day and Thou causest the day to pass into the night; Thou bringest forth the living out of the dead and Thou bringest forth the dead out of the living and Thou givest sustenance to whom Thou wilt without stint."

[28] Let not the Believers make the disbelievers their friends and take them into their confidence in preference to the Believers. Whoever will do this shall have no relation left with Allah; however your show of friendship towards them will be pardonable, if you do so to guard against their tyranny. Anyhow Allah warns you to fear Him because to Him you shall return.


[29-30] O Prophet, warn the people to note it well that Allah knows whatever is in your hearts whether you hide it or reveal it, for He knows everything that is in the heavens and in the earth and He has full power over all things. That Day is approaching when everyone shall find before him whatever he has done be it good or evil. On that Day one would wish that there were a long span of time between himself and that Day. Allah warns you to fear Him for He is very Compassionate towards His servants.


[31-32] O Prophet, tell the people, "If you sincerely love Allah follow me; then will Allah love you and forgive your sins, for He is Forgiving and Merciful. " Also say to them, "Obey Allah and His Messenger." And if, in spite of this, they do not accept your invitation, (warn them that) Allah does not love those who refuse to obey Him and His Messenger.





[33-37] Allah had chosen (for His Message) Adam, and Noah and the family of Abraham and the family of Imran in preference to all the people of the world. They all belonged to the same chain and were the offspring of one another. Allah knows everything and hears everything. (He was hearing,) when the woman of `Imran was saying,. "My Lord, 1 vow to Thee what is in my womb for Thy special service: so accept this offering of mine for Thou hearest and knowest everything." Afterwards when she delivered her child, she said, "Lord, I have delivered a girl" --- and Allah knew very well what she had delivered --- "and the male is not (handicapped) like the female. As it is, I have named her Mary, and I implore Thy protection for her and for her future offspring from the mischief of Satan, the Accursed." So, her Lord very graciously accepted the girl and made her grow up as a good girl and entrusted her to the care of Zacharias.


[38-39] Whenever Zacharias entered the sanctuary to see her, he found some eatables with her; he would ask, "O Mary, whence have these come to you?" She would answer, "It is from Allah: Allah provides without stint for whom He wills." Thereupon Zacharias invoked his Lord and said, "Lord, bestow upon me from Thyself righteous offspring for Thou alone hearest prayers." As he stood praying in the sanctuary, the angels called him and said, "Allah gives you the good news of a son to be named John; he will come to confirm a Command from Allah; he will be a great leader: he will be highly disciplined: he will be appointed a Prophet, and will be among the righteous."


[40-41] Zacharias said, "Lord, how shall I beget a son now that I have grown very old and my wife is barren?" "Thus will it be," was the answer. "Allah does whatever He wills." He said, "Lord, give me a Sign." "Your Sign is that you shall not (be able to) speak to anyone for three days but by gestures. During this period you should remember your Lord much and glorify His Name in the morning and in the evening."


[42-43] Then came the time when the angels said: "O Mary! Behold, Allah has chosen you, and made you pure, and exalted you above all the women in the world. O Mary! Remain devout to your Lord, and prostrate yourself in worship, and bow with those who bow (before Him)"

[44] O Muhammad, these are the "unseen" things, We are revealing to you: you were not present there when the priests of the Temple were casting lots by throwing their quills to decide which of them should be the guardian of Mary: nor were you with them when they were arguing about it.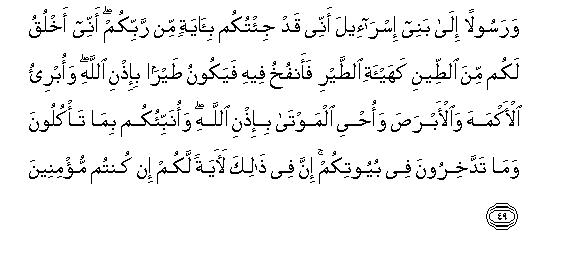 [45-49] And remember when the angels said, "O Mary, Allah sends you the good news of a Command of His: his name shall be Messiah, Jesus son of Mary. He will be highly honoured in this world and in the Next World and he will be among those favoured by Allah. He will speak to the people alike when in the cradle and when grown up, and he will be among the righteous." Hearing this, Mary said, "How, O Lord, shall I have a son, when no man has ever touched me?" "Thus shall it be," was the answer. Allah creates whatever He wills. When He decrees a thing, He only says, "Be" and it is. (Continuing their message, the angels added,) "And Allah will teach him the Book and wisdom, and give him the knowledge of the Torah and the Gospel, and appoint him as His Messenger to the children of Israel."


[50-51] (And when he came as a Messenger to the children of Israel, he said,) "I have come to you with a clear Sign from your Lord: in your very presence, I make the likeness of a bird out of clay and breathe into it and it becomes, by Allah's Command, a bird. I heal those born blind and the lepers and I bring to life the dead by Allah's Command: I inform you of what you eat and what you store up in your houses. Surely there is a great Sign for you in all this, if you have a mind to believe. And I have come to confirm those teachings of the Guidance of the Torah which are intact in my time. Lo! I have come with a clear Sign from your Lord; so fear Allah and obey me. Indeed Allah is my Lord, and also your Lord; therefore worship Him alone: that is the straight way."


[52-53] When Jesus perceived that the children of Israel were bent upon disbelief, he said, "Who will be my helper in the cause of Allah?" The disciples (promptly responded and) said, "We are Allah's helpers: we have believed in Allah; so do bear witness that we are Muslims (who surrender to Allah). Lord! we have believed in that which Thou hast sent down and followed Thy Messenger; so enroll us among those who bear witness.




[54-57] Then the children of Israel began to plot (against Jesus) and Allah also devised His secret plan, and Allah is the best of devisers. (It was to carry out His secret plan that) He said, "O Jesus, now I will recall you and raise you up to Myself and cleanse you of (the uncongenial company and the filthy environment of ) those who have rejected you and will set up those who follow you above those who have rejected you till the Day of Resurrection. And ultimately all of you shall return to Me: then I will judge between you in what you differ, and punish with a grievous punishment, both in this world and in the Hereafter, those who have adopted the attitude of disbelief and rejection and they shall have none to help them. And those, who have believed and done good deeds, shall be given their rewards in full. And note it well that Allah does not like the transgressors."



[58-60] The stories which We are relating to you are full of signs and wisdom. In the sight of Allah, the case of the birth of Jesus is like that of Adam, whom He created out of dust and said, "Be", and he was. This is the fact of the matter your lord is imparting, and you should not be of those who doubt it.



[61-63] After the coming of this knowledge to you, if anyone argues with you about this matter, say, O Muhammad, "Come, let us both gather together and also bring our children and your children, our women and your women, and then pray to Allah and invoke Him to lay the liars under His curse." These narratives are absolutely true and the fact is that there is no deity save Allah; indeed Allah is All Mighty and All-Wise. Then if they turn away (from accepting the challenge) it will be a clear proof of their mischief and Allah has full knowledge of the mischief-makers.

[64] Say, "O people of the Book! Come to what is common between us and you, that we worship none but Allah; that we associate nothing with Him and that none of us shall make as our Lord any other than Allah." If they reject your invitation, then tell them plainly, "Bear witness that we are Muslims (who worship and surrender to Allah alone)."

[65] O people. of the Book, why do you argue with us about Abraham (as to whether he was a Jew or a Christian? You know that) the Torah and the Gospel were sent down long after him. Why do you not, then, understand even this? You have had enough arguments



[66-68] You have had enough arguments about things of which you had some knowledge: why should you now argue about that also of which you know nothing at all? Allah knows, but you know nothing. Abraham was neither a Jew nor a Christian, but he was a Muslim, sound in the Faith, and he was not of those who set up partners with Allah. Surely only those people who follow Abraham are entitled to claim a relationship with Him. Now this Prophet and the Believers are better entitled to this relationship: Allah is the Protector of only those who are Believers.



[69-71] (O Believers,) a party of the people of the Book longs to lead you astray, somehow or other; whereas they mislead none except themselves, but they do not perceive it. O people of the Book, why do you deny Allah's Signs, which you yourselves are witnessing? O people of the Book, why do you confound the Truth with falsehood and conceal the Truth knowingly?



[72-74] Another party of the people of the Book says to one another, "Profess in the morning what has been sent down to the Believers and reject it in the evening: it may be that, by this device, they will turn back from their Faith." They also say, "Do not follow any except the one who follows your own religion." O Prophet, say to them, "In fact the real guidance is the guidance of Allah: (It is His Will) that He may bless one with the same that He once bestowed upon you, or He may provide others with a strong argument against you to put it before your Lord." O Prophet, say to them, "Bounty and Grace belong to Allah and He may bestow these upon any one He wills, for He is All Embracing, All-knowing: He chooses for His favour whom He wills and His grace is boundless."



[75-77] There is among the people of the Book such a person who will return to you intact a heap of gold entrusted to him by you. But there is among them also such a one who will not return even a single dinar entrusted to him by you unless you demand it with importunity. They justify their immoral behaviour, saying, "We are not to be called to account for our behaviour towards the unlettered (gentiles)." Obviously, this is a falsehood of their own which they deliberately . ascribe to Allah, knowing well that He has never permitted such a thing. Well, will they not be called to account? Nay, Allah loves only such pious people who fulfil their Covenant and abstain from evil. As for those who barter away their Covenant with Allah and their own oaths for a paltry profit; they shall have no share in the Hereafter; Allah will not speak to them nor even look at them nor cleanse them of sins on the Day of Resurrectien. There is, on the other hand, a painful punishment in store for them.

[78] There are among them some people, who, in reading the Book, twist their tongues in a way to make you think that what they read is a part of the Book, whereas, in fact it is not a part of the Book. They also assert, "What we are reading is from Allah," when in fact it is not from Allah. They knowingly ascribe the lie to Allah.


[79-80] No man, to whom Allah gives the Book and sound judgment and Prophethood, would say thereafter to the people, "Be worshippers of me instead of Allah." He will surely say, "Be true Rabbanis in accordance with the teachings of the Book you read and teach. He will never enjoin you to make the angels or the Prophets your lords; is it conceivable that a Prophet should enjoin you to adopt disbelief, after you have surrendered to Allah?"


[81-82] Remember, Allah made this Covenant with His Messengers: "Now that We have given you the Book and Wisdom, you are hereby bound to believe in and help a Messenger, who comes to you afterwards, confirming the teachings you already possess." After this, He asked, "Do you confirm this and take up the heavy responsibility of your Covenant with Me?" They said, "Yes, we confirm." Then Allah said, "Very well, bear witness to this and I also bear witness with you. Now whosoever breaks the Covenant after this, he shall be a transgressor."



[83-85] Now do these people desire to give up the way of Allah's submission (Islam) and adopt a different way (knowing well), that all things in heavens and the earth, willingly or unwillingly, submit to Allah, and to Him shall all return? O Prophet, say, "We believe in Allah and in the teachings which have been sent down to us, and also in those teachings sent down to Abraham, Ismail, Isaac, Jacob and his descendants, and in the guidance that was given by Allah to Moses, Jesus and other Messengers. We do not discriminate against anyone of them and we submit and surrender to Him." And whoso adopts any other than this way of submission (Islam), that way shall not be accepted from him and in the Hereafter he shall be among the losers.


[86-87] How can it be that Allah would guide the people who adopted disbelief after they had acknowledged the Faith and after they themselves had borne witness that he was a true Prophet and after clear Signs had come to them? For Allah does not guide the unjust people. The fitting recompense for their iniquity is that they are under the curse of Allah and of the angels and of all mankind.




[88-91] They shall remain under it for ever; neither will their punishment be lightened nor shall they be reprieved. However, those who repent after this and mend their ways will be redeemed; Allah is Forgiving and Compassionate. As for those who believed and then disbelieved and persisted in their disbelief; even their repentance shall not be accepted because they are obdurate transgressors. Believe it that if anyone of those who adopted disbelief and died as a disbeliever were to fill the whole earth with gold and offer it as ransom for redemption, that will not be accepted. There is a painful punishment in store for such people and they will not find any helpers.

[92] You can never attain piety unless you spend (in the way of Allah) of what you love; surely Allah will have full knowledge of what you spend.



[93-95] All these articles of food (which are lawful in the Muhammadan Law), were also lawful to the children of Israel except those which Israel had forbidden for himself before the Torah had been sent down. Say to them, "Bring the Torah and read out any passage from it (in support of your objection), if what you say be true. "-If even after this, some people persist in attributing to Allah false things of their own fabrication, they are, indeed, unjust people. Say, "What Allah has said is the very Truth; so follow exclusively the way of Abraham, and Abraham was not of those who associated other gods with Allah."


[96-97] Undoubtedly the first house of worship ever to be built for mankind is the one which is at Makkah: it was blessed and made the centre of Guidance for all peoples. In it are clear Signs: there is the spot where Abraham used to worship: then it is the sanctuary, and whoso enters it becomes safe and secure. Allah has, therefore, a right on the people that the one, who can afford to reach the house, should perform Haj there: and the one who disobeys (this Commandment should know that) Allah is All-Sufficient and does not stand in need of any creature of the worlds.


[98-99] Say, "O people of the Book, why do you disbelieve in the Revelations of Allah? Surely Allah is watching what you are doing"Say, "O people of Book, why do you stand in the way of him who believes in the Revelations of Allah and desire that he should follow a crooked way when you yourselves are a witness to it (that he is on the Right Way)?" Allah is not unaware of what you are doing.


[100-101] O Believers, if you follow some of the people of the Book they will again turn you away from belief into unbelief. There is no reason why you should now turn to unbelief, when Allah's Revelations are being recited to you and His Messenger is among you; whoso holds fast to Allah, surely he will be guided to the Right Way.


[102-103] O Believers, fear Allah as He should be feared and see that you do not die save as true Muslims - Hold fast together to Allah's cord and Iet nothing divide you. Remember the favour of Allah upon you, when you were enemies to one another, then He united your hearts, and by His grace, you became like brothers, and you were on the brink of the abyss of Fire and He rescued you from it. Thus does Allah make His signs clear to you so that you may find the right path to true success by these.






[104-109] There should always be among you some people who invite to what is good and enjoin what is right and forbid what is wrong: They alone will attain true success. And do not be like those, who became divided into sects and got involved in differences of opinion even after receiving clear teachings. Those (who have caused divisions), shall suffer a terrible punishment on the Day, when the faces (of some) will be brightened with joy and those of others shall be blackened with gloom. (It will be said to those,) whose faces shall be blackened, "Did you adopt the way of disbelief after receiving Faith? Well, then taste the torment for showing gross ingratitude towards it." As regards those, whose faces will be brightened, they will enjoy Allah's mercy and abide therein for ever. These are Allah's Revelations, which We are reciting to you in all Truth, for Allah does not will to be unjust to the people of the world. All that is in the heavens and the earth belongs to Allah, and to Allah are all the matters presented.



[110-112] Now you are the best community which has been raised up for the guidance of mankind: you enjoin what is right and forbid what is wrong and believe in Allah. Had these people of the Book also believed, it would have surely been better for them. Though there are among them some believers, yet most of them are transgressors. Anyhow they can do no harm to you: the worst they can do is to inflict a trifling hurt on you. If they fight with you, they will turn their backs on you, and shall not get any help from anywhere. Disgrace and humiliation have been stamped upon them wherever they may be except in the case when they get refuge under the favour of Allah or under the patronage of other people. They have incurred the wrath of Allah; therefore misery and humiliation have been stamped upon them. This is because they rejected the Revelations of Allah and killed His Prophets without any just cause; this is the consequence of their disobedience and their transgression.





[113-117] Yet all the people of the Book are not alike: there are among them some who are steadfastly on the right path; who recite the Revelations of Allah at night and fall prostrate before Him; who believe in AIlah and the Last Day; who enjoin what is right and forbid what is wrong and remain earnestly engaged in good works; these are the righteous people, and whatever good they do, they will not be denied the just reward for it, for Allah knows full well the pious people. As for those who have adopted the way of disbelief, neither their wealth nor their children shall avail them against Allah; they deserve Hell, and there they shall abide for ever. Whatever they are spending in this worldly life may be likened to the wind that brings frost in it and smites and destroys totally the tillage of those who have been unjust to themselves; Allah has not done any injustice to them but in fact they themselves are doing injustice to themselves.



[118-120] O Believers, do not take into your confidence any other than the people of your own community for they never miss any opportunity of exploiting any weakness of yours They desire that which is harmful to you; their malice has become apparent from what they say, but what they conceal in their hearts is yet far worse. We have made clear to you the signs thereof, and if you are wise, (you will be very cautious in your relations with them.) As for you, you love them but they do not love you, even though you believe in all the revealed Books. When they meet you, they say, "We also believe (in. your Prophet and in your Book"), but when they go aside, they bite their finger-tips in their rage against you.- Say to them, "Perish in your rage: Allah knows even that which is hidden in the hearts." They grieve if you are blessed with some good and rejoice if an evil befalls you. But their crafty schemes cannot harm you at all, if you show fortitude and fear Allah in whatever you do. Allah encircles whatever they are doing.

[121] O Messenger, mention that occasion to the Muslims when you set out from your house-hold early in the morning and began to assign to the Muslims their positions on the battlefield (of Uhd). Allah hears everything and knows everything.


[122-123] Remember that two groups from among you were about to show cowardice, though Allah was there to succour them, and the Believers should trust in Allah alone. Indeed Allah had already succoured you in the battle of Badr when you were in a much weaker position, therefore you should refrain from showing ingratitude towards Allah: it is expected that you will be grateful now.




[124-127] Remember when you said to the Believers, "Does it not suffice you that Allah should help you by sending down three thousand angels?" -Yes, if you show fortitude and fear Allah in whatever you do, Allah will help you with (not three thousand but) five thousand angels, known by certain marks, in case of a sudden attack from the enemy. Allah has told you this so that you may rejoice and your hearts be filled with peace: victory and succour come from Allah alone, Who is All-Powerful, All-Wise. (He will succour you) so that He may cut off a flank of the disbelievers or put them to rout with dishonour.


[128-129] (O Prophet,) you have no authority to decide the affair: Allah alone has the authority to pardon them or punish them for they are workers of iniquity. Allah is the Owner of whatever is in the heavens and whatever is in the earth: He may forgive whomever He pleases and punish whomever He wills; Allah is Forgiving and Merciful.







[130-136] O Believers, give up the devouring of interest by doubling and redoubling it, and fear Allah: it is expected that you will achieve (true) success. And guard yourselves against that Fire which has been prepared for the disbelievers, and obey Allah and His Messenger; it is expected that you will be shown mercy. Hasten to follow the path that leads to forgiveness from your Lord and to the Garden, which is as vast as the heavens and the earth and has been prepared for those pious people who spend their wealth freely in the way of Allah alike in prosperity and in adversity; who control their rage and forgive other people,-Allah likes such good people very much, -who, if ever they commit a base deed or wrong their own soul by the commission of a sin, remember Allah instantly and ask for forgiveness from Him for their shortcomings-for who, but Allah, can forgive sins?-who do not knowingly persist in the wrongs they did. These will be rewarded with forgiveness from Allah and with Gardens beneath which canals flow and they will reside therein for ever: and how excellent is the reward of those who do good deeds.


[137-138] As for those who treated (the Divine Revelations) as false, traverse the land and see for yourselves the wretched end of such people, who lived during the eras before your time. This is a clear warning for the people and guidance and admonition for those who fear Allah.





[139-143] Be not faint hearted and be not sorrowful, you will surely gain the upper hand, if you be true believers. If you have received a blow now, your enemy also received a similar blow. These are the vicissitudes of time that We alternate among the people; this has been done so that Allah may test from among you who were believers and choose the righteous witnesses of the Truth; for Allah does not like the workers of iniquity-and by this test He willed to sort out true believers and to crush down the disbelievers. Do you think that you will enter Paradise without undergoing any trial? Allah has not yet tried you to see who among you are ready to lay down your lives in His way and who will show fortitude for His sake. You used to long for death but that was before you confronted it. Well, now it has come before you, and you have seen it with your own eyes.

[144] Muhammad is no more than a Messenger: other Messengers have already passed before him: if, then, he also dies or is slain, will you then turn about on your heels? Remember, he, who turns about on his heels, will do no harm at all to Allah; of course Allah will duly reward those who live as His grateful servants.




[145-148] No human being can ever die save by Allah's leave, and the time of death has been pre-ordained. Whoso makes efforts with the intention of the reward of this world, We will reward him in this world, and whoso makes efforts with the intention of the reward of the Hereafter will get it and We will certainly reward the grateful servants. Before this have passed many such Prophets in whose company large bands of worshippers of Allah have fought (in His way); they never lost heart during the adversities that befell them in the way of Allah; nor did they show any weakness; nor did they submit (to falsehood: ) Allah likes the people who show fortitude. Their only prayer was: "Our Lord, forgive our errors and shortcomings; pardon us the excesses we have committed in our affairs; make our footings secure and hold us firm against the disbelievers. " Whereupon Allah gave them the rewards of this world and also the better rewards of the Next World: Allah likes only those people who do good deeds.

[149] O Believers, if you follow the counsel of those who have adopted the way of disbelief, they will cause you to turn back to unbelief and you will be the losers.


[150-151] (What they are saying is quite wrong) the fact is that Allah is your Protector and Helper and He is the best of all Helpers. The time is coming when We will cast awe into the hearts of the rejecters of the Truth: this is because they have set up with Allah partners, for whom He has sent no authority. Hell shall be their final abode and wretched indeed is the dwelling place of the workers of iniquity.

[152] Allah did fulfil His promise (of help) to you: in the initial stage of the battle, it was you who were killing them by Allah's leave until you lost heart and disputed about your duty and disobeyed your leader, when Allah showed you what (the spoils) you coveted,-for there were among you some who hankered after the life of this world, and others, who cherished the Life-after-death. Then Allah caused your retreat before the disbelievers in order to test you, but the fact is that even then Allah pardoned you, for Allah is very gracious to the believers.

[153] Recall how you were fleeing in such a panic that you did not even look back at one another, and the Messenger in your rear was calling nut to you. Consequently, Allah inflicted upon you one sorrow after the other so that you may learn this lesson for the that you should not grieve for what you have lost and for any misfortune that might befall you: Allah is fully aware of all that you are doing.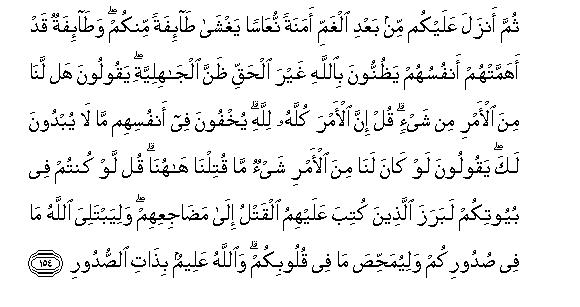 [154] Then after this grief, Allah sent down upon some of you such a sense of peace and security that they began to drowse, but the others, who attached importance only to their own worldly interests, began to cherish about Allah thoughts of ignorance which were void of truth. Now they ask, "Have we also a say in .the conduct of affairs?" Say, ("No one has share in this.) The authority over the affairs rests wholly with Allah." In fact they are not disclosing to you what they are concealing in their hearts: what they really mean is this: "If we had a say (in the conduct of) the affairs, none of us would have been slain here." Tell them, "Even though you had remained in your houses, those, who were destined to be slain, would have gone forth of their own accord to the places where they were destined to be slain." And all this happened so that Allah may test that which was hidden in your hearts, and sort out the base thing from your hearts. Allah is fully aware of what is in the hearts.

[155] As for those of you who turned their backs on the day the two hosts met, they failed in their duty because Satan had exploited some of their weaknesses and made their footing insecure. Nevertheless Allah pardoned them, for Allah is indeed Forgiving and Forbearing.



[156-158] O Believers, do not behave like disbelievers: when their brethren are on a journey or take part in a battle, (and ever meet with some accident) they say, "Had they stayed with us, they would not have died nor would have been slain." Allah makes such things a cause of grief and anguish in their hearts: for in fact, it is Allah who ordains both life and death; Allah is watching all that you do. If you are slain or die in the way of Allah, you will get Allah's forgiveness and mercy which are far better than all the things they amass. Anyhow, you shall be gathered together before Allah whether you die or are slain.


[159-160] (O Messenger,) it is a great mercy of Allah that you are very gentle and lenient towards them: for, had you been harsh and hard hearted, they all would have broken away from you: so pardon them and implore Allah to forgive them, and take counsel with them in the conduct of the affairs; then, when once you make up your mind (to do a thing), trust in Allah (and do it). Allah likes those who trust in Him in whatever they do. If Allah helps you, no power can overcome you, and if He forsakes you, who is there, then, after Him to help you? Therefore, true believers should trust in Allah alone.




[161-164] It is not conceivable that a Prophet should ever commit breach of trust, for whoso breaks His trust shall bring forth with him on the Day of Resurrection that which he had misappropriated. Then everyone shall be recompensed in full for what one earned, and none shall be dealt with unjustly. How can then it be conceivable that the one, who always follows Allah's will, should behave like the one who incurs Allah's wrath and is ultimately doomed to Hell, which is the mast abominable abode? These two types of people have, in the sight of Allah, ranks of far different grades, for Allah is watching what they are doing. As a matter of fact, it is the great favour of Allah to the Believers that He has raised up in their midst from among themselves a Messenger who recites to them His Revelations, purifies their lives and teaches them the Book and Wisdom, though before this these very people had been in manifest error.




[165-168] And how is it that, when a disaster befell you, you exclaimed, "Whence is this? You yourselves had (in the battle of Badr) inflicted twice as great a disaster (on your enemy). O Prophet, say to them, "You yourselves have brought about this disaster upon yourselves." Allah has, indeed, power over everything. It was by Allah's leave that you suffered the loss on the day the two armies met so that Allah might test the true believers and also the hypocrites. When these hypocrites were told to come and fight in the way of Allah or at least in the defence (of their city), they said, "Had we known that the fighting would take place today, we would have certainly gone out with you." At the time they were uttering these words, they were nearer to unbelief than to faith, for they utter with their tongues what is not in their hearts; but Allah knows well what they conceal in their hearts. These are the very people who, while they themselves stayed at home, said of their brethren, who had gone to the battle and had been slain, "If they had obeyed us, they would not have been slain." Tell them, "If you really believe in what you say, you should turn away your own death, when it comes to you."



[169-171] Do not regard as dead those who have been slain in the way of Allah; nay, they are really alive and are well provided for by their Lord. They rejoice in what Allah with His bounty has given them, and they are happy to think that there is nothing to fear or to grieve also for those believers whom they have left behind and who have not yet Joined them. They feel happy to have received the reward and the bounty of Allah and they have come to know that most surely Allah does not let go to waste the reward of the Believers.




[172-175] As for those, who responded to the call of Allah and His Messenger even after receiving the injury there will be a great reward for such of those who do righteous works and refrain from evil and who, when the people said to them, "Big armies have gathered against you: so fear them," became more firm in their Faith, and answered, "Allah is all sufficient for us, for He is the best Protector." Ultimately they returned home with the blessing and grace of Allah; they did not suffer any harm at all. Besides this, they had the, honour of following what pleased Allah, and Allah's bounty is infinite. (Now you must have realized that) it was Satan who was frightening the people with the fear of his friends; therefore in future do not fear men but fear Me, if you are true believers.



[176-178] (O Messenger,) let not the mischievous activities of those, who are striving today in the way of unbelief, grieve you; they can do absolutely no harm to Allah: thus Allah intends that they should not have any share in the Hereafter, and there is a very severe punishment in store for them. Those, who are bartering away faith for unbelief, are surely doing no harm to Allah: a grievous torment awaits them. Let not the disbelievers think that the respite We are giving them is good for themselves; as a matter of fact, We are giving them respite so that they might gather a heavy burden of sins for themselves; then there shall be disgraceful punishment for them.

[179] Allah will not leave the Believers in the state in which you happened to be at present: He will surely separate the pure from the impure people but Allah will not do this by disclosing the unseen to you. As for disclosing the unseen, He chooses those of His Messengers He pleases; therefore put your faith in Allah and His Messenger (regarding the unseen) for there shall be a big reward for you, if you follow the way of faith in Allah and fear Him.

[180] Let not those whom Allah has blessed with His bounty and are behaving in a niggardly manner think it to be good for themselves; nay, it is very bad for them. Whatever they are hoarding parsimoniously shall be hung round their necks like a collar on the Day of Resurrection; for Allah alone will inherit all that is in the heaven and the earth and He is fully aware of what you are doing.


[181-182] Allah has heard the saying of those who said; "Allah is poor and we are rich." We will record this (in their Conduct Book) along with their previous record of unjust killing of their Prophets. And (on the Day of Judgment), We will say to them, "Now taste the torment of the burning Fire. This is for what you earned with your own hands. Allah is not unjust to His servants."



[183-185] There are those who say "Allah has enjoined us that we should not accept anyone as a Messenger unless he offers, in our presence, a sacrifice which fire from heaven should devour." Say to them, "Many Messengers came to you before me with clear Signs, and they brought also the Sign you speak of: if you are sincere (in your demand), why did you kill those Messengers?" If they now charge you with imposture, O Muhammad, before you they treated as impostors many a Messenger who came with clear Signs, and with Scriptures and light-giving Books. Since every being shall taste death, all of you shall get your full recompense on the Day of Resurrection. Then only that one will be truly successful, who escapes from the Hell-fire and is admitted to the Garden. As regards the life of this world, it is (as it appears); merely a thing that deceives.




[186-189] O Muslims, you shall surely be tried in your possessions and in your selves; you shall hear many hurtful things from those who were given the Book before you and from those who associate other gods with Allah. But if you show fortitude, and fear Allah under all circumstances, this will be (a proof of) constancy of purpose. Remind the people of the Book that Allah made the Covenant with them and enjoined: "You shall spread the teachings of the Book among the peoples and shall not keep these concealed." But they flung the Book behind their backs and' bartered it away for paltry worldly gains. What a bad business they are carrying on! Do not think that those, who exult in their misdeeds and who love to be praised even for deeds they have not actually performed, shall escape chastisement; the fact is that a grievous chastisement awaits them; for to Allah belong the earth and the heavens and He has power over each and everything.





[190-194] In the creation of the heavens and the earth, and in the alternation of night and day, there are many signs for the people of good sense, who standing and sitting and lying down remember Allah and reflect upon the (wonders) of the structure of the earth and the heavens. (Then they cry out spontaneously,) "Our Lord, Thou, hast not created all this in vain, 'for Thou art free from doing such a thing. So save us from the torment of the Hell-fire for, O Lord, surely Thou wilt have abased him, whom Thou wilt cast into Hell-fire; then such workers of iniquity shall have no helper. O Lord, we heard a caller, who invited to the Faith, saying, "Believe in your Lord," and we accepted his invitation; so, our Lord, forgive us our sins and remit our evil deeds and let our end be with the righteous people. Lord, fulfil the promises Thou hast made to us through Thy Messengers and do not put us to shame on the Day of Resurrection, for Thou never goest against Thy promise."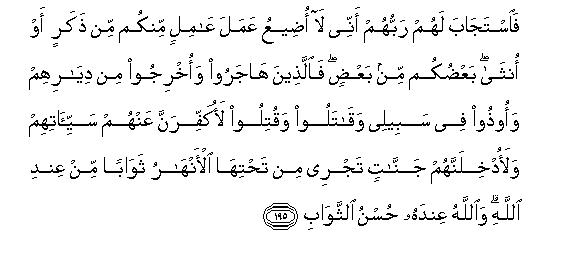 [195] Their Lord answered their prayer, saying, "I do not let go to waste the labour of any worker from among you whether male or female, for all of you (human beings) are the offspring of one another. I will, therefore, forgive all the shortcomings of those who left their homes or were expelled from them for My sake or were persecuted, and of those who fought for My cause and were slain, and admit them to the Gardens underneath which canals flow." This is their reward from Allah and with Allah alone is the richest reward.




[196-199] Let not the activities of the disbelievers in the countries deceive you, for this is merely a brief enjoyment of this transitory life; then all of them shall go to Hell which is the worst abode. On the other hand, pious people, who fear Allah, will be given Gardens underneath which canals flow: therein they will live for ever. This is their hospitality from Allah, and that, which is with Allah is the best for the righteous people. And there are some even among the people of the Book, who believe in Allah and in the Book which has been sent down to you and in the Scripture which was sent down to themselves before this; they humble themselves before Allah and do not barter away Allah's Revelation for paltry worldly gains; they will have their reward from their Lord; for Allah is very swift in settling accounts.

[200] O Believers, Practice fortitude and show valour in fighting against worshippers of falsehood; be ever prepared for the service of Truth, and always fear Allah: it is expected that you, will achieve true success.