بسم الله الرحمن الرحيم
Sayyid Abul Ala Maududi - Tafhim al-Qur'an - The Meaning of the Qur'an
---
13. Surah Ar Ra'ad (The Thunder)
Name
This Surah takes its name from the word (ar-Ra'ad) (thunder) that occurs in v. 13. It is merely the symbolic name of the Surah and does not in any way mean that the Surah deals with the scientific problems connected with thunder.
Period of Revelation
The internal evidence (vv. 27-31 and vv. 34-48) shows that this Surah was revealed in the last stage of the Mission of the Holy Prophet at Makkah and during the same period in which Surahs Yunus, Hud and Al- A'araf were sent down. The manner of speech indicates that a long time had passed since the Holy Prophet had been conveying the Message. On the one hand, his opponents had been contriving different devices to defeat him and his Mission, and, on the other, his followers had been expressing a desire that by showing a miracle the disbelievers might be brought to the Right Way. In answer, Allah impressed on the Believers that it is not His way to convert people by this method and that they should not lose heart, if He is giving the enemies of the Truth a rope long enough to hang themselves. Otherwise, He is able to show such signs as may bring the dead out of their graves and make them speak (v. 31), but even then these obdurate people will invent an excuse to explain this away. All this decisive evidence clearly proves that this Surah was revealed during the last stage of the Prophet's Mission at Makkah.
Central Theme
The first verse enunciates the main theme of this Surah, that is, "The Message of Muhammad (Allah's peace be upon him) is the very Truth, but it is the fault of the people that they are rejecting it." This is the pivot on which the whole Surah turns. This is why it has been shown over and over again in different ways that the basic components of the Message -- Tauhid, Resurrection and Prophethood-are a reality: therefore they should believe sincerely in these for their own moral and spiritual good. They have been warned that they shall incur their own ruin if they reject them, for kufr by itself is sheer folly and ignorance. Moreover, the aim of the Surah is not merely to satisfy the minds but also to appeal to the hearts to accept the Faith. Therefore it does not merely put forward logical arguments in support of the truth of the Message and against the people's wrong notions, but at appropriate intervals it makes frequent use of sympathetic and earnest appeals to win over their hearts by warning them of the consequences of kufr and by holding out the happy rewards of Faith so that the foolish people should give up their obduracy.
Besides this, the objections of the opponents have been answered without any mention of them, and those doubts which are proving a hindrance in the way of the Message or were being created by the opponents have been removed. At the same time, the Believers; who had been passing through long and hard ordeal and were feeling tired, and waiting anxiously for Allah's succor, have been comforted and filled with hope and courage.

In the name of Allah, the Compassionate, the Merciful.

[1] Alif. Lam. Mim. Ra. These are the verses of the Divine Book, and that which has been sent down to you from your Lord is the very truth, but most (of your) people do not believe in this.

[2] It is Allah Who raised up the heavens without such pillars as you could see: then He sat Himself upon the Throne of His Kingdom: He subjected the sun and the moon to a law. Everything in the universe is running its course to its fixed term. And Allah alone is directing the whole affair. He makes His signs plain: perhaps you may be convinced of meeting your Lord.

[3] And it is He Who has spread out the earth, and fixed the immovable mountains in it, and made the rivers flow on it. He has created in pairs every kind of fruit, and He covers the day with the veil of night. Surely there are great Signs in these for those who reflect upon them.

[4] And behold! there are different regions on the earth close to one another; there are vineyards, corn fields and groves of date-palm with single or double trunk. All are irrigated with the same water, but We make some more tasteful than others. Most surely there are many Signs in all these things for those who use their common sense.

[5] Now, if there is anything for you to marvel at, you should marvel at their saying: "What! when we have become dust, shall we then be raised to a new life again?" These are the people who have denied their Lord: they are those who shall have collars around their necks: they shall be the dwellers of Hell and therein they shall dwell for ever.

[6] They demand from you the hastening of evil rather than good, though indeed there have been instances of exemplary punishments before them (of the wrath of God on the people who adopted the same attitude.) The fact is that your Lord shows forbearance to the people despite their transgressions, and it is also the fact that your Lord is stern in retribution.

[7] These people who have rejected your Message, say, "Why has no Sign been sent down to this person from His Lord" You are a warner only and every people has its guide.




[8-11] Allah knows what every female bears in her womb: He is fully aware of what is taking shape in the womb and also what decrease or increase occurs therein. Everything has its fixed measure with Him. He has perfect knowledge both of the visible and the invisible. He is the Great and the Supreme Being. Alike to Him are all of you, whether One of you whispers or speaks aloud or one hides oneself under the cover of the darkness of night or walks about in the broad day light. For each person has guardians before him and behind him, who watch over him by Allah's command. The fact is that Allah does not change a people's lot unless they themselves change their own characteristics: and when Allah decides to bring about retribution to a people, none can ward it off, nor can they find any defender or helper against Allah.


[12-13] It is He Who makes the lightning flash before you to fill you both with fear and with hope: it is He Who produces clouds laden with water. The thunder glorifies Him with His praise and the angels, too, glorify Him in awe of Him. He lets loose thunderbolts and (often) smites with them whomsoever He wills, while they are wrangling about Allah. The fact is that His plan is very effective.


[14-15] To invoke Him alone is the right thing. As regards the other deities whom they invoke apart from Him, they cannot give any answer to their prayers. It is as if a man were to stretch his hands towards water and ask it to come to his mouth, when it cannot reach his mouth in this way; likewise the prayers of the disbelievers are nothing but aimless efforts. For it is Allah alone before Whom everything in the heavens and the earth bows down willingly or unwillingly, and the shadows of all things bow down before Him in the morning and the evening.

[16] Ask them, "Who is the Lord of the heavens and the earth ?" Say, "Allah." Then say to them, "When this is the fact, have you then made beside Him such deities your protectors as can do neither good nor harm even to themselves ?" Say, "Are the blind man and the seeing man alike? Are light and darkness alike?" And if it is not so, have the partners, they have set up with Allah, created anything like His creation so as to make the matter of creation doubtful for them? Say, Allah alone is the Creator of everything; and He is the Unique, the Almighty.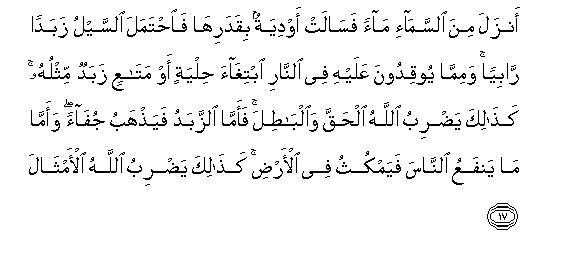 [17] Allah sent down water from the sky and every system carried it along according to its capacity: then there was flood and a swelling foam came to the surface. Likewise there arises a scum out of the metals which are melted in the furnace for making ornaments and utensils. By such similitudes, Allah makes the truth distinct from falsehood. That which is the foam vanishes and that which is beneficial for the people remains on the earth. In this way Allah cites similes to make His Message clear.

[18] There is an excellent reward for those who responded to the call of their Lord. As for those who rejected His call, they would willingly give for their ransom all the wealth the earth contained, if they possessed it, and as much more besides (in order to escape retribution). Those are the people who shall have the heavy reckoning; their abode shall be Hell-a wretched resting place.



[19-21] Well, how can the one who believes that this Book which has been sent down to you from your Lord, is the Truth, be like the one who is blind to this fact? It is the wise people alone who take advice from this: they fulfill their Covenant with Allah, and break it not after confirming it. They join together what Allah has bidden to join: they fear their Lord and dread lest they should be called upon to render a heavy reckoning.




[22-25] They show fortitude to win the approval of their Lord. They establish Salat and expend openly and secretly out of what We have bestowed upon them and ward off evil with good. Their's shall be the abode of the Hereafter: Gardens wherein they will live for ever. They will enter into them along with the righteous from among their forefathers, wives and descendants. The angels will come to welcome them from every side, saying, "Peace be upon you. You have won this blessing because of what you steadfastly endured in the world." How blessed is this abode of the Hereafter! As for those who break their Covenant with Allah after confirming it, who cut asunder what Allah has bidden to be joined, and spread chaos on the earth, their's shall be the curse, and they shall have a wretched abode in the Hereafter.

[26] Allah gives abundantly His provisions to whom He will and sparingly to whom He pleases. These people are wholly absorbed in the joys of this life, whereas the life of this world is but a paltry thing as compared with the life of the Hereafter.



[27-29] Those people who have rejected (Muhammad as a Prophet) say, "Why has no Sign been sent down to him from his Lord? Say, "Allah leads astray whom He will; and He leads to Himself only those who turn to Him." Such are the people who have accepted (the Message of this Prophet,) and their hearts find comfort in the remembrance of Allah. Note it well that it is Allah's remembrance alone that brings comfort to hearts. Blessed are those who have accepted the Message and done righteous deeds: they have a good end.

[30] O Muhammad ! We have sent you as a Messenger in this way among a people before whom many peoples have passed away so that you should recite to them the Message which We have sent down to you; yet they are rejecting the most Compassionate Lord. Say to them, "My Lord is He: there is no deity but He: I have placed my full trust in Him and He is my sole Resort."


[31-32] And what (do you think) would have been the result, if We had sent a Qur'an that would have caused the mountains to move or cleft the earth asunder or made the dead speak? (It is not difficult at all to show such Signs) for Allah has full power over everything. Have the Believers (still any expectations of a Sign in answer to the demand of the disbelievers and) not given up all hope, (knowing) that Allah could have guided all mankind aright, if He had so desired? As for the disbelievers, because of their misdeeds, one affliction or the other does not cease to visit them every now and then, or come near their home. It will go on like this until Allah's threat come to pass. Indeed, Allah does not fail to bring about His threat. Other Messengers have also been mocked before you, but I have always given respite to the disbelievers and then seized upon them at its end. Just see how terrible had been My Scourge!



[33-35] What! are they (so audacious that they are) setting up partners with Him Who is watching minutely over the actions of each and every soul? O Prophet say to them, "(If God has Himself set them up as His partners) just tell me their names. Do you mean to inform Him of something new that He Himself is unaware of on His earth? Or do you merely utter empty words? Indeed for those who rejected the Message their fraud has been made to appear fair to them and they have been debarred froth the Right Way: and there is none to show the Right Way to those whom Allah lets go astray. There is a torment for them in the life of this world but the torment in the Hereafter is still more painful; and there is none to protect them from Allah. As regards the Paradise which the God fearing have been promised it is like this: canals flow beneath it, its fruits are eternal and its shade is perpetual. Such is the reward of the righteous but the reward of the disbelievers is the tire of Hell.


[36-37] O Prophet! some of those people whom We gave the Book before you rejoice in the Book We have sent down to you while there are others among the different sections who reject some of the things contained in this. Tell them plainly "I have been commanded to worship Allah alone and prohibited from setting up a partner with him. Therefore I invite you to Him and myself turn to Him." It is with this instruction that We have sent this Command in Arabic to you. Now if you follow the desires and lusts of the people in spite of the knowledge you have received there shall be none to defend you nor to protect you against Allah.


[38-39] We have sent many Messengers before you and We assigned to them also wives and children: and no Messenger had the power to show any Sign without the sanction of Allah. Every age had its Book: Allah abrogates whatever He pleases and keeps intact whatever He wills and He has the Original Book with Him.



[40-42] And O Prophet! Rest assured that We will carry out the threat We are holding out to them whether a part of it should happen during your lifetime or We should cause you to die before its fulfillment. Anyhow your duty is only to convey the Message and it is for Us to do the reckoning. Do these people not see how We are advancing in the land and shrinking its boundaries (for them) on all sides ? Allah rules and there is none to revise His decrees and He is swift at His reckoning. Indeed those who went before them also devised schemes, but the decisive plan is wholly in the hand of Allah. He knows what every soul earns and the disbelievers will soon come to know who will have a good end.

[43] These disbelievers say, "You are not a Messenger of Allah." Say, "Allah suffices for a witness between me and you, and every such person who has the knowledge of the Book."